Phosphophyllite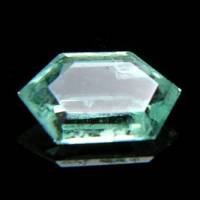 Bolivia
0.38 carats
© Mineral Classics
The name Phosphophyllite reflects its phosphate content and Greek "phyllon" - a leaf, referring to its perfect leaf-like cleavage.
Phosphophyllite forms bluish- or sea-green thick tabular crystals, fish-tail twinning is common.
Phosphophyllite is highly valued by collectors for its delicate bluish green colour, but it is seldom cut because it is rare, fragile and brittle.
General Information
Chemical Formula

Gems, Sixth Edition

(2006)

, More from other references
Photos of natural/un-cut material from mindat.org
Physical Properties of Phosphophyllite
Mohs Hardness

3 to 3.5

Blue Chart Gem Identification

(2010)

, More from other references
Specific Gravity

3.07 to 3.13

Blue Chart Gem Identification

(2010)

, More from other references
Tenacity

Brittle

Blue Chart Gem Identification

(2010)

,
Cleavage Quality

Perfect

Blue Chart Gem Identification

(2010)

, More from other references
Fracture

Conchoidal

Gemstones

(2009)

,
Optical Properties of Phosphophyllite
Refractive Index

1.595 to 1.621

Blue Chart Gem Identification

(2010)

, More from other references
Optical Character

Biaxial/-

Blue Chart Gem Identification

(2010)

, More from other references
Birefringence

0.021

Blue Chart Gem Identification

(2010)

, More from other references
Pleochroism

Nil

Gemstones

(2009)

,
Dispersion

Very weak

Gemstones

(2009)

,
Colour
Colour (General)

Colourless, bluish-green, green

Gemmological Tables

(2004)

, More from other references
Causes of Colour
Bluish green, Fe2+

Pragmatic Spectroscopy For Gemologists

(2011)

,
Transparency

Transparent

Gemmological Tables

(2004)

, More from other references
Lustre

Vitreous

Gemstones

(2009)

,
Fluorescence & other light emissions
Fluorescence (Short Wave UV)

Violet

Blue Chart Gem Identification

(2010)

, More from other references
Crystallography of Phosphophyllite
Crystal System

Monoclinic

Blue Chart Gem Identification

(2010)

, More from other references
Habit

Thick tabular crystals with numerous other forms, fish-tail and penetration twinning

Gems, Sixth Edition

(2006)

, More from other references
Geological Environment
Where found:

Occurs as a secondary mineral in zoned complex granite pegmatites or as an alteration product of sphalerite

Gems, Sixth Edition

(2006)

,
Further Information
Mineral information:
Phosphophyllite information at mindat.org
Significant Gem Localities

Bolivia

Gems, Sixth Edition, Michael O'Donoghue, 2006, p. 437
Gems, Sixth Edition, Michael O'Donoghue, 2006, p. 437