Cinnabar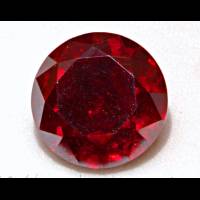 China
8.54 carats
© Rarestone.com
Cinnabar is named after Greek "kinnabaris", the ancient name for the mineral; possibly from Arabic "zinjafr" or Persian "zinjifrah", dragon's blood, probably alluding to its colour.
Cinnabar usually occurs as masses or crusts. Well-formed crystals are very rare. The material has cochineal-red colour with adamantine to metallic lustre.
Clear cinnabar crystals are faceted into spectacular stones. Massive material is used for cabochons.
General Information
Chemical Formula

Gems, Sixth Edition

(2006)

, More from other references
Photos of natural/un-cut material from mindat.org
Physical Properties of Cinnabar
Mohs Hardness

2 to 2.5

Gems, Sixth Edition

(2006)

, More from other references
Specific Gravity

8.0 to 8.2

Gemstones of the world

(2001)

, More from other references
Cleavage Quality

Perfect

Gems, Sixth Edition

(2006)

, More from other references
Fracture

Uneven,Splintery

Gemstones

(2009)

,
Heat Sensitivity

High sensitivity

Gemstones

(2009)

,
Optical Properties of Cinnabar
Refractive Index

2.905 to 3.25

Gems, Sixth Edition

(2006)

, More from other references
Optical Character

Uniaxial/+

Gems, Sixth Edition

(2006)

, More from other references
Birefringence

0.351

Gems, Sixth Edition

(2006)

, More from other references
Pleochroism

Nil

Gemstones

(2009)

,
Dispersion

Nil

Gemstones

(2009)

,
Colour
Colour (General)

Red, pale-blue

Gemstones of the world

(2001)

, More from other references
Transparency

Translucent,Opaque

Gemstones of the world

(2001)

, More from other references
Lustre

Adamantine,Metallic

Gems, Sixth Edition

(2006)

, More from other references
Crystallography of Cinnabar
Crystal System

Trigonal

Gems, Sixth Edition

(2006)

, More from other references
Habit

Rhombohedral crystals. Masses and encrustations are more common

Gems, Sixth Edition

(2006)

, More from other references
Geological Environment
Where found:

Occurs in low-temperature ore deposits and is also found in veins and around hot springs

Gems, Sixth Edition

(2006)

,
Further Information
Mineral information:
Cinnabar information at mindat.org
Significant Gem Localities

China

Gems, Sixth Edition, Michael O'Donoghue, 2006, p. 400