7th Jun 2023
gemdat.org - the gemstone and gemology information website
Current statistics: 624 gem names. 526 gemstone data pages. 3,156 total locality items listed from 1,475 sites worldwide. 8,171 photos.



Details on over 500 types of gem
Gemdat is a unique reference web site on gems and gemology with something for everyone from beginners to experts. Join our community and get involved!
Search Gemdat.org
Search our extensive database of gems, locations and photos:
Explore the Map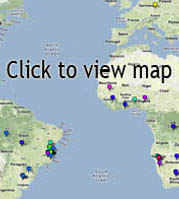 Search Gemstones by Colour
Switch to Advanced
Click in the circle to select colour (hue), and then in the central square to select shade and saturation.
Random Gemstone
Birthstone lists
For thousands of years people have associated gemstones with months of the year. Different cultures have different associations. Select below:
| | | | |
| --- | --- | --- | --- |
| Jan | garnet | Jul | turquoise, onyx |
| Feb | amethyst, hyacinth, pearl | Aug | sardonyx, carnelian, moonstone, topaz |
| Mar | bloodstone, jasper | Sep | chrysolite |
| Apr | diamond, sapphire | Oct | opal, aquamarine |
| May | emerald, agate | Nov | topaz, pearl |
| Jun | cat's eye, turquoise, agate | Dec | bloodstone, ruby |
| | | | |
| --- | --- | --- | --- |
| Aquarius | turquoise, hawk's eye | Leo | rock crystal |
| Pisces | amethyst, quartz | Virgo | citrine, agate |
| Aries | jasper, carnelian | Libra | citrine, smoky quartz |
| Taurus | carnelian, rose quartz | Scorpio | carnelian |
| Gemini | citrine, tiger's eye | Saggittarius | sapphire, chalcedony |
| Cancer | chrysoprase, aventurine | Capricorn | onyx, cat's eye |