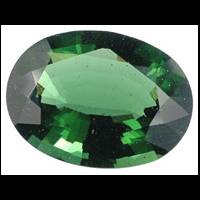 Moldavite
Czech Republic
9.63 carats
© irocks.com
Tektite is a natural glass formed from a meteorite impact melting the local rock.
Many varietal names are given to Tektites from different localities.
Moldavites are oval or spherical specimens of pale or bottle-green colour with few included bubbles and less obviously flattened from the Radomilice area of southern Bohemia, Czech Republic.
Bikolite is a name given to Tektites from the Bikol area of the Philippines.
Australites are button-shaped glass pieces found in South Australia and Tasmania. Billitonites are dark brown specimens found on Billiton Island between Sumatra and Borneo.
Darwinites or Queenstownites are silica-rich and alumina-poor colourless to olive green to black specimens from Jukes-Darwin field near Queenstown, Tasmania.
Tektites can be distinguished from the much more abundant volcanic glasses (obsidian) by their negligible water content. A small splinter of tektite will fuse quietly in a flame to a droplet of glass, whereas a splinter of obsidian will froth up and expand in a flame owing to its small water content turning into steam.