Crocoite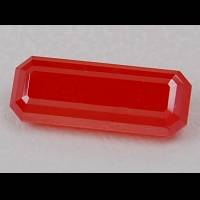 Dundas mineral field, Zeehan district, West Coast municipality, Tasmania, Australia
4.09 carats
© Rarestone.com
Crocoite was named crocoise in 1832, from the Greek "krokos" - saffron, in allusion to its colour. The name was first altered to crocoisite and afterwards to crocoite. It was discovered at Berezovsky deposit near Ekaterinburg in the Urals in 1766.
Crocoite is commonly found as well-developed crystals of a bright hyacinth-red, orange, or yellow colour, near transparent to translucent, and have an adamantine to vitreous lustre.
The material is brittle, has good cleavage and very sensitive to heat. Transparent crystals of crocoite have been faceted into brilliant stones for collectors.
General Information
Chemical Formula

Gems, Sixth Edition

(2006)

, More from other references
Photos of natural/un-cut material from mindat.org
Physical Properties of Crocoite
Mohs Hardness

2.5 to 3

Gemmological Tables

(2004)

, More from other references
Specific Gravity

5.90 to 6.10

Gemmological Tables

(2004)

, More from other references
Cleavage Quality

Distinct

Gemstones

(2009)

,
Fracture

Conchoidal

Gemstones

(2009)

,
Optical Properties of Crocoite
Refractive Index

2.31 to 2.66

Gemmological Tables

(2004)

, More from other references
Optical Character

Biaxial/+

Gemmological Tables

(2004)

, More from other references
Birefringence

0.35

Gemmological Tables

(2004)

, More from other references
Pleochroism

Distinctly trichroic

Gemstones

(2009)

,
Dispersion

Nil

Gemstones

(2009)

,
Colour
Colour (General)

Yellowish-red, orange

Gemmological Tables

(2004)

, More from other references
Causes of Colour
Yellow to red, O2-

→

Cr6+ charge transfer

Pragmatic Spectroscopy For Gemologists

(2011)

,
Transparency

Transparent,Translucent

Gemmological Tables

(2004)

, More from other references
Lustre

Adamantine,Vitreous

Gemstones

(2009)

,
Fluorescence & other light emissions
Fluorescence (General)

A reddish to dark-brown fluorescence may sometimes be seen

Gems, Sixth Edition

(2006)

,
Crystallography of Crocoite
Crystal System

Monoclinic

Gemmological Tables

(2004)

, More from other references
Habit

Prismatic

Gems, Sixth Edition

(2006)

, More from other references
Geological Environment
Where found:

It is found in the oxidized zone of lead deposits in association with chromium-bearing rocks.

Gems, Sixth Edition

(2006)

,
Further Information
Mineral information:
Crocoite information at mindat.org
Significant Gem Localities

Australia

Gems, Sixth Edition, Michael O'Donoghue, 2006, p. 402
Gems, Sixth Edition, Michael O'Donoghue, 2006, p. 402