Cuprite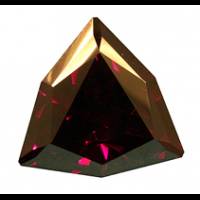 Namibia
35.31 carats
© Mineral Classics
Cuprite was first described in 1845 and the name derives from the Latin "cuprum" for its copper content.
Cuprite forms well-developed cubic crystals. It shows internal reflections of the deep garnet-red colour inside the almost black crystal. Cuprite has metallic luster and very high refractive index. Cuprite produces attractive cabochons and fine faceted stones, but it is very soft and brittle.
There are different types of stone which are dyed red and offered in the trade as cuprite.
General Information
Chemical Formula

Gems, Sixth Edition

(2006)

, More from other references
Photos of natural/un-cut material from mindat.org
Physical Properties of Cuprite
Mohs Hardness

3.5 to 4

Blue Chart Gem Identification

(2010)

, More from other references
Specific Gravity

5.85 to 6.15

Blue Chart Gem Identification

(2010)

, More from other references
Cleavage Quality

Distinct

Gemmological Tables

(2004)

, More from other references
Fracture

Uneven

Gemstones

(2009)

,
Heat Sensitivity

Sensitive to heat

Blue Chart Gem Identification

(2010)

,
Optical Properties of Cuprite
Refractive Index

2.849

Blue Chart Gem Identification

(2010)

, More from other references
Optical Character

Isotropic

Gemmological Tables

(2004)

, More from other references
Dispersion

Nil

Gemstones

(2009)

,
Colour
Colour (General)

Carmine-red

Gemstones of the world

(2001)

, More from other references
Causes of Colour

Red, Band theory

Pragmatic Spectroscopy For Gemologists

(2011)

,
Transparency

Translucent

Gemstones of the world

(2001)

, More from other references
Lustre

Metallic

Gemstones of the world

(2001)

, More from other references
Crystallography of Cuprite
Crystal System

Isometric

Blue Chart Gem Identification

(2010)

, More from other references
Habit

Cubes, octahedra or combinations of forms

Gems, Sixth Edition

(2006)

, More from other references
Geological Environment
Where found:

Occurs in the oxidized zones of copper deposits

Gems, Sixth Edition

(2006)

,
Further Information
Mineral information:
Cuprite information at mindat.org
Significant Gem Localities

DR Congo

Sicomines copper-cobalt project

France

mindat.org

Namibia

Gems, Sixth Edition, Michael O'Donoghue, 2006, p. 403
No reference listed

USA

[MinRec 12:303-304]