Diaspore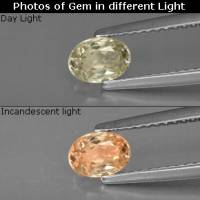 Turkey
0.57 carats
© gemselect.com
Diaspore is named from Greek "diaspheirein" - to scatter, alluding to its usual descrepitation when strongly heated.
Diaspore forms greenish-brown, yellow, colourless, sometimes pinkish or white platy crystals with vitreous lustre. Some specimens may show a slight colour change from greenish in daylight to pinkish brown under tungsten light.
Mamaris area in Mugla Province, Turkey seems to be the source of all large gem-quality crystals that have been faceted to date.
General Information
Varieties/Types:
Chemical Formula

Gemstones of the world

(2001)

, More from other references
Photos of natural/un-cut material from mindat.org
Physical Properties of Diaspore
Mohs Hardness

6.5 to 7

Blue Chart Gem Identification

(2010)

, More from other references
Specific Gravity

3.30 to 3.40

Blue Chart Gem Identification

(2010)

, More from other references
Cleavage Quality

Perfect

Blue Chart Gem Identification

(2010)

, More from other references
Optical Properties of Diaspore
Refractive Index

1.702 to 1.750

Blue Chart Gem Identification

(2010)

, More from other references
Optical Character

Biaxial/+

Blue Chart Gem Identification

(2010)

, More from other references
Birefringence

0.048

Blue Chart Gem Identification

(2010)

, More from other references
Chatoyancy

Rare

Blue Chart Gem Identification

(2010)

,
Colour
Colour (General)

Greenish-brown, colourless, white, yellow, bluish, pink.

Gemstones of the world

(2001)

, More from other references
Colour (Daylight)

Greenish

Gems, Sixth Edition

(2006)

,
Colour (Incandescent Light)

Pinkish brown under tungsten light

Gems, Sixth Edition

(2006)

,
Transparency

Transparent,Translucent

Gemstones of the world

(2001)

, More from other references
Lustre

Vitreous,Pearly

Gemstones of the world

(2001)

,
Crystallography of Diaspore
Crystal System

Orthorhombic

Blue Chart Gem Identification

(2010)

, More from other references
Habit

Platy crystals

Gems, Sixth Edition

(2006)

,
Geological Environment
Where found:

Diaspore may be formed by the hydrothermal alteration of aluminous minerals and may be a hydrothermal mineral in some alkalic pegmatites.

Gems, Sixth Edition

(2006)

,
Spectrographic Data
Calculated Spectra:


Click spectra for more information

Further Information
Mineral information:
Diaspore information at mindat.org
Significant Gem Localities

Turkey

Gems, Sixth Edition, Michael O'Donoghue, 2006, p. 304