Enstatite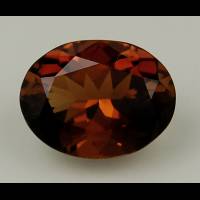 Tanzania
7.51 carats
© Rarestone.com
Enstatite is named after Greek word for "resistor", because it resists high temperatures.
Clear transparent specimens can be faceted. Greenish-gray enstatite cat's eye ans star enstatite are known.
Enstatite has been identified in some meteorites. It is thought to be one of the early stages for the formation of crystalline silicates in Space.
General Information
Varieties/Types:

Bronzite

- A green-brown iron-rich variety of Enstatite.

Chemical Formula

Gems, Sixth Edition

(2006)

, More from other references
Photos of natural/un-cut material from mindat.org
Physical Properties of Enstatite
Mohs Hardness

5.5

Blue Chart Gem Identification

(2010)

, More from other references
Specific Gravity

3.20 to 3.25

Blue Chart Gem Identification

(2010)

, More from other references
Cleavage Quality

Good

Gemstones of the world

(2001)

, More from other references
Fracture

Conchoidal

Gemstones

(2009)

,
Optical Properties of Enstatite
Refractive Index

1.650 to 1.680

Gemstones of the world

(2001)

, More from other references
Optical Character

Biaxial/+

Blue Chart Gem Identification

(2010)

, More from other references
Birefringence

0.009 to 0.012

Gemstones of the world

(2001)

, More from other references
Pleochroism

Brown variety has strong trichroism: pinkish red to brown - yellow - green; Green variety - distinct: yellow-green - green

Blue Chart Gem Identification

(2010)

, More from other references
Dispersion

Little to none

Gemstones of the world

(2001)

, More from other references
Chatoyancy

Star 4, rarely 8. Black star: fuzzy rays, bronze color sheen

Blue Chart Gem Identification

(2010)

,
Colour
Colour (General)

Green, yellowish-green, brownish-green, greenish-gray, yellow-brown, brownish-pink

Gemmological Tables

(2004)

, More from other references
Causes of Colour
Greenish brown, Fe2+. Green, Fe2+ with minor Cr3+

Pragmatic Spectroscopy For Gemologists

(2011)

,
Transparency

Transparent,Translucent,Opaque

Gemstones of the world

(2001)

, More from other references
Lustre

Vitreous,Pearly

Gemstones

(2009)

,
Fluorescence & other light emissions
Fluorescence (General)

None

Gemstones of the world

(2001)

,
Crystallography of Enstatite
Crystal System

Orthorhombic

Blue Chart Gem Identification

(2010)

, More from other references
Habit

Prismatic

Gems, Sixth Edition

(2006)

, More from other references
Geological Environment
Where found:

Enstatite occurs in pyroxenites, peridotites and dunites and in ultramafic inclusions in alkalic olivine basalts and kimberlite and in several other contexts.

Gems, Sixth Edition

(2006)

,
Spectrographic Data
Calculated Spectra:


Click spectra for more information

Further Information
Mineral information:
Enstatite information at mindat.org
Significant Gem Localities

China

Myanmar

Ted Themelis (2008) Gems & mines of Mogok
Ted Themelis (2008) Gems & mines of Mogok
Ted Themelis (2008) Gems & mines of Mogok
Ted Themelis (2008) Gems & mines of Mogok