Gahnite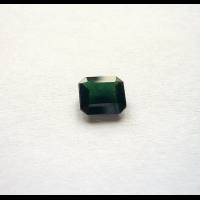 Bahia, Brazil
0.87 carats
Gahnite is named after J.G. Gahn, a Swedish chemist and mineralogist, who discovered the mineral. It was first described in 1807 for an occurrence in the Falu mine, Falun, Dalarna, Sweden.
Gahnite is a rare mineral belonging to the Spinel group. It has the same structure as
Spinel
but different chemistry (zinc).
General Information
Chemical Formula

Gems, Sixth Edition

(2006)

,
Photos of natural/un-cut material from mindat.org
Physical Properties of Gahnite
Mohs Hardness

7.5 to 8

Blue Chart Gem Identification

(2010)

, More from other references
Specific Gravity

4.00 to 4.62

Gemstones of the world

(2001)

, More from other references
Optical Properties of Gahnite
Refractive Index

1.790 to 1.818

Blue Chart Gem Identification

(2010)

, More from other references
Optical Character

Isotropic

Blue Chart Gem Identification

(2010)

,
Colour
Colour (General)

Red-violet, different blue shades, green or blackish.

Gemstones of the world

(2001)

, More from other references
Causes of Colour
Blue, Fe2+ in tetrahedral coordination

Pragmatic Spectroscopy For Gemologists

(2011)

,
Transparency

Transparent

Gemmological Tables

(2004)

, More from other references
Crystallography of Gahnite
Crystal System

Isometric

Blue Chart Gem Identification

(2010)

, More from other references
Habit

Octahedra

Gems, Sixth Edition

(2006)

,
Geological Environment
Where found:

Natural gahnite occurs as an accessory mineral in granites and granite pegmatites.

Gems, Sixth Edition

(2006)

,
Further Information
Mineral information:
Gahnite information at mindat.org
Significant Gem Localities

Nigeria

Gems, Sixth Edition, Michael O'Donoghue, 2006, p. 413

Sri Lanka