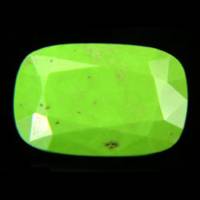 Australia
5.62 carats
© irocks.com
Gaspéite is named after its discovery locality, on the Gaspé Peninsula, Lemieux Township, Gaspé-ouest County, Quebec, Canada.
Gaspéite occurs in translucent bright grass-green to olive- or yellowish green nodular concretions or as aggregates of rhombic crystals.
Gaspéite is carved into sculptures and objects d'art. It is cut into cabochons and mounted in jewelry.