Grandidierite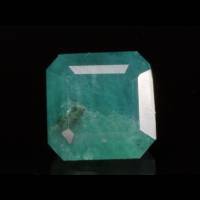 Vohibola phlogopite deposit, Behara, Amboasary Sud, Anosy, Madagascar
2.05 carats
© Jasun McAvoy
Grandidierite is named after Alfred Grandidier, French explorer of Madagascar, specialist of its geography and natural history.
Grandidierite forms characteristic translucent bluish green or greenish blue elongated crystals. It has strong pleochroism: dark blue-green, colourless and dark green.
Crystals up to 8 cm in length and limited amounts of facet-grade rough are found in southern Madagascar.
General Information
Chemical Formula

Gemmological Tables

(2004)

, More from other references
Photos of natural/un-cut material from mindat.org
Physical Properties of Grandidierite
Mohs Hardness

7.5

Blue Chart Gem Identification

(2010)

, More from other references
Specific Gravity

2.85 to 3.00

Blue Chart Gem Identification

(2010)

, More from other references
Cleavage Quality

Distinct

Gemmological Tables

(2004)

, More from other references
Fracture

Uneven

Gemstones

(2009)

,
Optical Properties of Grandidierite
Refractive Index

1.578 to 1.639

Blue Chart Gem Identification

(2010)

, More from other references
Optical Character

Biaxial/-

Blue Chart Gem Identification

(2010)

, More from other references
Birefringence

0.037 to 0.039

Blue Chart Gem Identification

(2010)

, More from other references
Pleochroism

Distinct: greenish blue - colorless - blue-green

Blue Chart Gem Identification

(2010)

, More from other references
Colour
Colour (General)

Bluish-green, blue

Gemmological Tables

(2004)

, More from other references
Transparency

Translucent

Gemmological Tables

(2004)

, More from other references
Lustre

Vitreous

Gemstones

(2009)

,
Fluorescence & other light emissions
Fluorescence (General)

Inert

Blue Chart Gem Identification

(2010)

,
Crystallography of Grandidierite
Crystal System

Orthorhombic

Blue Chart Gem Identification

(2010)

, More from other references
Habit

Elongated anhedral crystals

Gems, Sixth Edition

(2006)

, More from other references
Geological Environment
Where found:

Grandidierite occurs in aluminous boron-rich rocks and in pegmatites.

Gems, Sixth Edition

(2006)

,
Inclusions in Grandidierite

Needle-like channels, parallel growth planes - Blue Chart Gem Identification, Herve Nicolas Lazzarelli, 2010, p 6

Further Information
Mineral information:
Grandidierite information at mindat.org
Significant Gem Localities

Madagascar

Gems, Sixth Edition, Michael O'Donoghue, 2006, p.414