Hemimorphite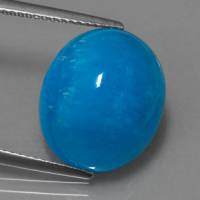 Republic of the Congo
13.48 carats
© gemselect.com
Hemimorphite is named after Greek word for "half shape" referring to the contrasting terminations at opposite ends of a crystal.
Hemimorphite most commonly forms needle- or fan-shaped aggregates of thin, colourless, bladed crystals; or as blue, blue-green botryoidal crusts.
The material is often blue-white banded and mixed with dark matrix.
General Information
Chemical Formula

Gems, Sixth Edition

(2006)

, More from other references
Photos of natural/un-cut material from mindat.org
Physical Properties of Hemimorphite
Mohs Hardness

5

Blue Chart Gem Identification

(2010)

, More from other references
Specific Gravity

3.30 to 3.50

Blue Chart Gem Identification

(2010)

, More from other references
Tenacity

Brittle

Gemstones

(2009)

,
Cleavage Quality

Perfect

Gemmological Tables

(2004)

, More from other references
Fracture

Uneven,Conchoidal

Gemstones of the world

(2001)

, More from other references
Optical Properties of Hemimorphite
Refractive Index

1.614 to 1.636

Blue Chart Gem Identification

(2010)

, More from other references
Optical Character

Biaxial/+

Blue Chart Gem Identification

(2010)

, More from other references
Birefringence

0.022

Blue Chart Gem Identification

(2010)

, More from other references
Pleochroism

Absent

Gemstones of the world

(2001)

, More from other references
Dispersion

0.020

Gemstones of the world

(2001)

, More from other references
Colour
Colour (General)

Blue, green, colourless

Gemstones of the world

(2001)

, More from other references
Transparency

Transparent,Translucent,Opaque

Gemstones of the world

(2001)

, More from other references
Lustre

Vitreous

Gemstones

(2009)

,
Fluorescence & other light emissions
Fluorescence (General)

Weak; not characteristic

Gemstones of the world

(2001)

,
Crystallography of Hemimorphite
Crystal System

Orthorhombic

Blue Chart Gem Identification

(2010)

, More from other references
Habit

Massive

Blue Chart Gem Identification

(2010)

, More from other references
Geological Environment
Where found:

Hemimorphite occurs as a secondary mineral in the oxidized zone of zinc-bearing mineral deposits.

Gems, Sixth Edition

(2006)

,
Further Information
Mineral information:
Hemimorphite information at mindat.org
Significant Gem Localities

China

mindat.org

Mexico

Aquiles Serdán Municipality

Gems, Sixth Edition, Michael O'Donoghue, 2006, p. 415