Amber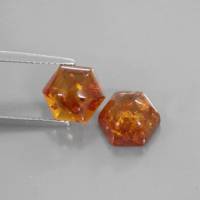 Poland
2.24 carats
© gemselect.com
Amber is the fossilized, hardened resin of trees, ranging in age from less than a million to more than 300 million years old. Tree resin, initially a sticky semi-liquid, first hardens by losing volatile components, which evaporate into the air over periods from a few days to a few years. This is followed by a second stage of hardening in which the resin molecules polymerize (link with each other to form larger molecules), a process which can take anywhere from several tens of thousands of years to millions of years. After polymerization the amber becomes insoluble (or much less soluble) in organic solvents like acetone, toluene, alcohol, or gasoline. Young tree resins (sometimes known as "copal") are often misleadingly marketed as "amber", or euphemistically as "young amber", but the term Amber should properly be limited to the ancient polymerized resins that do not become sticky again when a drop of organic solvent is applied. On the other hand, the most ancient ambers (early Cretaceous or older) tend to become too brittle to use in jewelry.
True amber of lapidary quality comes mainly from the Baltic region (principally Poland and Lithuania), with some production also in Mexico (Chiapas), the Dominican Republic, and Burma. Most so-called "amber" marketed from Colombia and Madagascar is much too young to qualify as true amber.
Amber is mostly drop or nodular shaped with a homogeneous structure, it has yellow and brown colour. Inclusions of insects or parts of plants are common.
Amber is an ancient biological gem material. One of the earliest examples of worked amber are beads from Gough's cave in southern England, dated 11 000–9000 BC.
Photos of natural/un-cut material from mindat.org
Amber Treatments
Heated in oil to improve clarity, disc-like fractures: "sun spangles". Heated in nitrogen-rich atmosphere to create a darker shallow surface coloration. At darker color, higher RI, lower and darker fluorescence: LW - inert to weak yellowish-orange to dark brownish-orange. Magnification: clouds of tiny gas bubbles below surface. Coloration may fade with prolonged exposure to sunlight. Green color may be created by heat-treatment in autoclave.
Reconstructed small amber pieces warmed and compressed together: immersion in alcohol reveals hazy outline and different hue of individual pieces, elongated and flattened gas bubbles. LW: strong patchy chalky blue - Blue Chart Gem Identification, Herve Nicolas Lazzarelli, 2010, p 7
Amber Simulants

Newly created resins (copal), other synthetic resins and yellow glass. Ambroid is made from smaller pieces of the genuine amber, which are welded at 140-250 degrees C (284-482 degrees F) and 3000 atmospheres pressure into a substance that is easily mistaken for natural amber. - Gemstones of the world, Walter Schumann, 2001, p 228

Physical Properties of Amber
Mohs Hardness

2 to 2.5

Gemstones of the world

(2001)

, More from other references
Specific Gravity

1.05 to 1.10

Blue Chart Gem Identification

(2010)

, More from other references
Tenacity

Brittle

Gemstones of the world

(2001)

,
Cleavage Quality

None

Gemstones of the world

(2001)

,
Fracture

Conchoidal

Gemstones

(2009)

,
Optical Properties of Amber
Refractive Index

1.539 to 1.545

Blue Chart Gem Identification

(2010)

, More from other references
Optical Character

Isotropic

Gemmological Tables

(2004)

,
Birefringence

None

Gemstones of the world

(2001)

,
Pleochroism

Absent

Gemstones of the world

(2001)

,
Chatoyancy

Yes

Gemmological Tables

(2004)

,
Colour
Colour (General)

Yellow, white, red, green, blue, brown, black

Gemmological Tables

(2004)

, More from other references
Causes of Colour

Blue to green, yellow to orange to red to brown, Fluorescence under visible light in Dominican amber; blue is due to light (Rayleigh) scattering in Baltic amber Charge-transfer processes in large organic molecules

Pragmatic Spectroscopy For Gemologists

(2011)

,
Transparency

Transparent,Translucent,Opaque

Gemmological Tables

(2004)

, More from other references
Lustre

Resinous

Gemstones

(2009)

,
Fluorescence & other light emissions
Fluorescence (General)

Bluish-white to yellow-green

Gemstones of the world

(2001)

, More from other references
Fluorescence (Long-Wave UV)

Common moderate to strong (chalky)-blue to yellow-(green)

Blue Chart Gem Identification

(2010)

,
Crystallography of Amber
Crystal System

Amorphous

Blue Chart Gem Identification

(2010)

,
Inclusions in Amber
Flow lines, gas bubbles, small organisms, parts of plants trapped - Blue Chart Gem Identification, Herve Nicolas Lazzarelli, 2010, p 7
Insects and pieces of plants, bubbles, discoidal stress spangles with radiating lines - Gemmological Tables, Ulrich Henn and Claudio C. Milisenda, 2004, p 8
Further Information
Mineral information:
Amber information at mindat.org
Significant Gem Localities

Baltic Sea

Dominican Republic

Italy

Myanmar

Peru

Russia

Yantarny (Jantarny; Palmnicken)