Howlite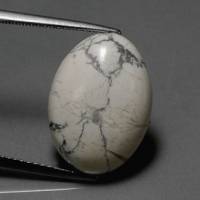 USA
9.98 carats
© gemselect.com
Howlite was discovered near Windsor, Nova Scotia in 1868 and named after Henry How, a Canadian chemist, geologist, and mineralogist.
It often forms in nodules which resemble cauliflower heads. The nodules are opaque, white with gray or black veins, often showing web-like pattern. Crystals are very rare and are found in only a couple localities in the world. The maximum size of crystals is about 1 cm.
Howlite is used for cabochons, decorative objects, beads, small carvings or jewelry components. Dyed blue howlite is used as a
turquoise
substitute and is sometimes marketed as turquenite.
General Information
Chemical Formula

Gems, Sixth Edition

(2006)

, More from other references
Photos of natural/un-cut material from mindat.org
Howlite Treatments
Howlite has been dyed various colors and may also be waxed. An elaborate carving was dyed blue to produce a superficial resemblance to turquoise; a test used to identify it was to etch the surface with acid and observe melting of the howlite with a hot needle (Crowningshield, 1969) – Nassau (1984)
Dyed blue to imitate turquoise (and lapis lazuli). Acetone test may reveal the dye - Blue Chart Gem Identification, Herve Nicolas Lazzarelli, 2010, p 5
Physical Properties of Howlite
Mohs Hardness

3 to 3.5

Blue Chart Gem Identification

(2010)

, More from other references
Specific Gravity

2.45 to 2.58

Blue Chart Gem Identification

(2010)

, More from other references
Cleavage Quality

None

Gemstones

(2009)

,
Fracture

Uneven

Gemstones

(2009)

,
Optical Properties of Howlite
Refractive Index

1.583 to 1.608

Blue Chart Gem Identification

(2010)

, More from other references
Optical Character

Biaxial/-

Gemmological Tables

(2004)

, More from other references
Birefringence

0.019

Gemmological Tables

(2004)

, More from other references
Pleochroism

Nil

Gemstones

(2009)

,
Dispersion

Nil

Gemstones

(2009)

,
Colour
Colour (General)

Natural color: white, commonly with gray to black "spiderweb" matrix.

Blue Chart Gem Identification

(2010)

, More from other references
Colour (Chelsea Filter)

Dyed howlite: pink to red

Blue Chart Gem Identification

(2010)

,
Causes of Colour

Blue, dyes exclusively

Pragmatic Spectroscopy For Gemologists

(2011)

,
Transparency

Opaque

Gemmological Tables

(2004)

, More from other references
Lustre

Vitreous,Dull (Earthy)

Gemstones

(2009)

,
Fluorescence & other light emissions
Fluorescence (Short Wave UV)

Occasionally orange

Gemmological Tables

(2004)

, More from other references
Fluorescence (Long-Wave UV)

Brownish-yellow

Gemmological Tables

(2004)

, More from other references
Crystallography of Howlite
Crystal System

Monoclinic

Blue Chart Gem Identification

(2010)

, More from other references
Habit

Tabular

Gems, Sixth Edition

(2006)

, More from other references
Geological Environment
Where found:

Howlite is found in borate deposits.

Gems, Sixth Edition

(2006)

,
Further Information
Mineral information:
Howlite information at mindat.org