Adamite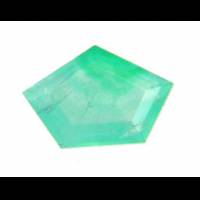 Lavrion Mining District, Lavreotiki, East Attica, Attica, Greece
1.06 carats
© Mineral Classics
Adamite was named after the French mineralogist Gilbert-Joseph Adam, who discovered the mineral at Chañarcillo, Copiapó Province, Atacama Region, Chile.
Adamite forms transparent to translucent pale yellow through green to bluish green elongated crystals and radial aggregates. Yellow color is due to Fe compounds, tints of green are connected with the presence of copper and purple colour is caused by cobalt content. Reddish to pink and violet transparent crystals have been reported from Mexico.
Large individual clear crystals can be cut into attractive faceted stones.
General Information
Chemical Formula

Gems, Sixth edition

(2006)

,
Photos of natural/un-cut material from mindat.org
Physical Properties of Adamite
Mohs Hardness

3.5

Gemstones of the world

(2001)

, More from other references
Specific Gravity

4.30 to 4.68

Gemstones of the world

(2001)

, More from other references
Cleavage Quality

Distinct

Gemstones

(2009)

,
Fracture

Conchoidal

Gemstones

(2009)

,
Optical Properties of Adamite
Refractive Index

1.708 to 1.773

Gemmological Tables

(2004)

, More from other references
Optical Character

Biaxial/+,-

Gems, Sixth edition

(2006)

, More from other references
Birefringence

0.031 to 0.050

Gems, Sixth edition

(2006)

, More from other references
Pleochroism

Nil

Gemstones

(2009)

,
Dispersion

Strong

Gemstones

(2009)

,
Colour
Colour (General)

Yellow-green, brownish, colourless, pink, violet.

Gemstones of the world

(2001)

, More from other references
Transparency

Transparent,Translucent

Gems, Sixth edition

(2006)

,
Lustre

Vitreous

Gemstones of the world

(2001)

, More from other references
Fluorescence & other light emissions
Fluorescence (Short Wave UV)

Adamite may show an intense yellow or green fluorescence with lemon-yellow phosphorescence under SWUV.

Gems, Sixth edition

(2006)

,
Phosphorescence

Lemon-yellow phosphorescence under SWUV

Gems, Sixth edition

(2006)

,
Crystallography of Adamite
Crystal System

Orthorhombic

Gemstones of the world

(2001)

, More from other references
Habit

Elongated orthorhombic crystals and radial aggregates.

Gems, Sixth edition

(2006)

, More from other references
Geological Environment
Where found:

Adamite occurs as a secondary mineral in the oxidized zone of zinc- and arsenic-bearing hydrothermal mineral deposits.

Gems, Sixth edition

(2006)

,
Further Information
Mineral information:
Adamite information at mindat.org
Significant Gem Localities

Greece

Mexico

Gems, Sixth Edition, Michael O'Donoghue, 2006, p. 377

Namibia