Milarite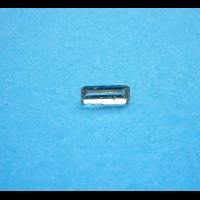 Switzerland
0.20 carats
Milarite is named after its occurence in the Val Milar, Switzerland. The original specimens, however, came from Val Giuf, Tavetsch, Grischun, Switzerland.
Milarite is a rare beryllium silicate, that forms transparent to translucent colourless to pale yellow or green prismatic crystals, typically well formed.
A.Thomas (2009) reports: "The small pieces of facet rough that have been cut to date have all originated from a single African source".
General Information
Chemical Formula

Gems, Sixth Edition

(2006)

, More from other references
Photos of natural/un-cut material from mindat.org
Physical Properties of Milarite
Mohs Hardness

5.5 to 6

Blue Chart Gem Identification

(2010)

, More from other references
Specific Gravity

2.52 to 2.60

Blue Chart Gem Identification

(2010)

, More from other references
Tenacity

Brittle

Gemstones

(2009)

,
Cleavage Quality

Imperfect

Gemstones

(2009)

,
Fracture

Uneven,Conchoidal

Gemstones

(2009)

,
Optical Properties of Milarite
Refractive Index

1.529 to 1.560

Blue Chart Gem Identification

(2010)

, More from other references
Optical Character

Uniaxial/-

Blue Chart Gem Identification

(2010)

, More from other references
Birefringence

0.000 to 0.011

Blue Chart Gem Identification

(2010)

, More from other references
Colour
Colour (General)

Yellow, colourless, white, green.

Gemstones of the world

(2001)

, More from other references
Transparency

Transparent

Gemmological Tables

(2004)

, More from other references
Lustre

Vitreous

Gemstones of the world

(2001)

, More from other references
Fluorescence & other light emissions
Fluorescence (General)

Common weak to moderate chalky green (and phosphorescence)

Blue Chart Gem Identification

(2010)

,
Crystallography of Milarite
Crystal System

Hexagonal

Blue Chart Gem Identification

(2010)

, More from other references
Habit

Prismatic crystals, typically well formed

Gems, Sixth Edition

(2006)

, More from other references
Geological Environment
Where found:

Milarite is found in vugs in granites and syenites or in hydrothermal veins.

Gems, Sixth Edition

(2006)

,
Inclusions in Milarite

May show thin elongated thread-like inclusions - Blue Chart Gem Identification, Herve Nicolas Lazzarelli, 2010, p 7

Further Information
Mineral information:
Milarite information at mindat.org
Significant Gem Localities

Brazil

Gems, Sixth Edition, Michael O'Donoghue, 2006, p. 430