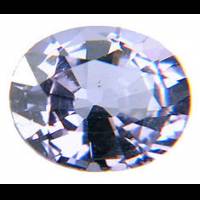 Musgravite
Tunduru, Tunduru District, Ruvuma Region, Tanzania
0.44 carats
© Mineral Classics
Taaffeite is named after E.C.R. Taaffe, gemologist of Dublin, Ireland.
Taaffeite forms mauve or lilac, red to brown, bluish, green transparent to translucent crystals.
A. Thomas reports that "Taaffeite is a very rare gem mineral that was first discovered as a cut stone". A light mauve stone was originally believed to be
spinel
. The source of the material was unknown for a long time, until eventually small fragents were found in Sri Lanka.
A purplish brown chatoyant taaffeite has been found recently in Sri Lanka.