Petalite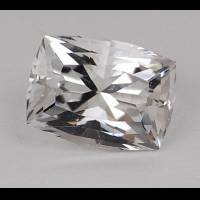 Skardu, Skardu Area, Gilgit-Baltistan, Pakistan
11.65 carats
© Rarestone.com
Petalite is named after Greek "petalon" - leaf, because of its perfect cleavage.
Well-formed crystals are rare, it is usually found in its massive form. Stones with colour are sometimes cut into cabochons. Cut petalite stones exhibit a glassy appearance and can be confused with
Glass
.
Petalite cat's eye is known.
General Information
Chemical Formula

Gems, Sixth Edition

(2006)

, More from other references
Photos of natural/un-cut material from mindat.org
Physical Properties of Petalite
Mohs Hardness

6 to 6.5

Gemstones of the world

(2001)

, More from other references
Specific Gravity

2.40

Gemstones of the world

(2001)

, More from other references
Tenacity

Brittle

Blue Chart Gem Identification

(2010)

, More from other references
Cleavage Quality

Perfect

Blue Chart Gem Identification

(2010)

, More from other references
Fracture

Conchoidal

Gemstones of the world

(2001)

, More from other references
Optical Properties of Petalite
Refractive Index

1.502 to 1.523

Blue Chart Gem Identification

(2010)

, More from other references
Optical Character

Biaxial/+

Blue Chart Gem Identification

(2010)

, More from other references
Birefringence

0.012 to 0.016

Blue Chart Gem Identification

(2010)

, More from other references
Pleochroism

Absent

Gemstones of the world

(2001)

, More from other references
Dispersion

0.0141

Gemstones

(2009)

,
Colour
Colour (General)

Colourless, pink, yellowish

Gemstones of the world

(2001)

, More from other references
Transparency

Transparent

Gemmological Tables

(2004)

, More from other references
Lustre

Pearly

Blue Chart Gem Identification

(2010)

, More from other references
Fluorescence & other light emissions
Fluorescence (General)

May react white to weak orange

Blue Chart Gem Identification

(2010)

, More from other references
Crystallography of Petalite
Crystal System

Monoclinic

Blue Chart Gem Identification

(2010)

, More from other references
Habit

Thick tabular, columnar and aggregates

Gemstones of the world

(2001)

, More from other references
Geological Environment
Where found:

Petalite is a mineral of granite pegmatites where it may be found with other Li-minerals including spodumene and tourmaline group species.

Gems, Sixth Edition

(2006)

,
Further Information
Mineral information:
Petalite information at mindat.org
Significant Gem Localities

Australia

Brazil

Gemstones of the World, W.Schumann, 2001, p.188

Italy

Gemstones of the World, W.Schumann, 2001, p.188
Gemstones of the World, W.Schumann, 2001, p.188

Sweden

Gemstones of the World, W.Schumann, 2001, p.188