Prehnite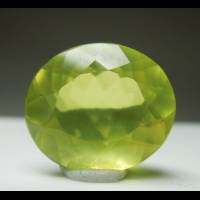 Prospect Quarry, Prospect, Cumberland Co., New South Wales, Australia
4.2 carats
© LucianaBarbosa.com
Prehnite is named after Dutch Colonel Hendrik Von Prehn, and was first described in 1789 for an occurrence in Haslach, Harzburg and Oberstein, Germany.
Individual crystals are rare. Faceted gems are seldom fully transparent and don't show "fire". Prehnite is usually cut into cabochons or carved.
Extensive deposits of gem quality prehnite occur near Wave Hill Station in the central Northern Territory, of Australia.
Prehnite cat's is known.
General Information
Chemical Formula

Gems, Sixth Edition

(2006)

, More from other references
Photos of natural/un-cut material from mindat.org
Physical Properties of Prehnite
Mohs Hardness

6 to 6.5

Blue Chart Gem Identification

(2010)

, More from other references
Specific Gravity

2.80 to 2.95

Blue Chart Gem Identification

(2010)

, More from other references
Tenacity

Brittle

Blue Chart Gem Identification

(2010)

,
Cleavage Quality

Good

Gemstones of the world

(2001)

, More from other references
Fracture

Uneven

Gemstones of the world

(2001)

, More from other references
Optical Properties of Prehnite
Refractive Index

1.611 to 1.673

Blue Chart Gem Identification

(2010)

, More from other references
Optical Character

Biaxial/+

Blue Chart Gem Identification

(2010)

, More from other references
Birefringence

0.021 to 0.039

Gemstones of the world

(2001)

, More from other references
Pleochroism

Absent

Gemstones of the world

(2001)

, More from other references
Dispersion

None

Gemstones of the world

(2001)

, More from other references
Chatoyancy

Yes

Gemmological Tables

(2004)

,
Colour
Colour (General)

Oily yellowish-(greenish)

Blue Chart Gem Identification

(2010)

, More from other references
Transparency

Translucent

Blue Chart Gem Identification

(2010)

, More from other references
Lustre

Vitreous,Pearly

Blue Chart Gem Identification

(2010)

, More from other references
Fluorescence & other light emissions
Fluorescence (General)

None

Gemstones of the world

(2001)

,
Crystallography of Prehnite
Crystal System

Orthorhombic

Blue Chart Gem Identification

(2010)

, More from other references
Habit

Radiating fibrous aggregate

Gemmological Tables

(2004)

, More from other references
Geological Environment
Where found:

Occurs as a secondary or hydrothermal mineral in veins or cavities in mafic volcanic rocks or in granite gneisses or syenites

Gems, Sixth Edition

(2006)

,
Further Information
Mineral information:
Prehnite information at mindat.org
Significant Gem Localities

Australia

Gemstones of the world, W. Schumann, 2001, p.188

Canada

Gems, Sixth Edition, Michael O'Donoghue, 2006, p. 440

USA

Gems, Sixth Edition, Michael O'Donoghue, 2006, p. 440