Proustite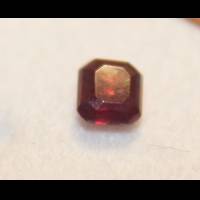 Chile
.35 carats
© raregemhunter
Proustite is named after Joseph L. Proust, French chemist.
Proustite forms beautiful prismatic transparent adamantine dark red crystals, but they become dull black and opaque on exposure to light, therefore they must be kept in darkness.
Proustite is a rare stone. It is cut into brilliant faceted stones, but they are too soft to be set in jewelry.
General Information
Chemical Formula

Gems, Sixth Edition

(2006)

, More from other references
Photos of natural/un-cut material from mindat.org
Physical Properties of Proustite
Mohs Hardness

2.5

Gemmological Tables

(2004)

, More from other references
Specific Gravity

5.51 to 5.64

Gemmological Tables

(2004)

, More from other references
Tenacity

Brittle

Gemstones

(2009)

,
Cleavage Quality

Distinct

Gemstones

(2009)

,
Fracture

Uneven,Conchoidal

Gemstones

(2009)

,
Light Sensitivity

Often darkens with exposure to light

Gems, Sixth Edition

(2006)

,
Optical Properties of Proustite
Refractive Index

2.792 to 3.087

Gemmological Tables

(2004)

, More from other references
Optical Character

Uniaxial/-

Gemmological Tables

(2004)

, More from other references
Birefringence

0.295

Gemmological Tables

(2004)

, More from other references
Pleochroism

Strong

Gemstones

(2009)

,
Dispersion

Weak

Gemstones

(2009)

,
Colour
Colour (General)

Cinnabar to scarlet-red

Gemstones of the world

(2001)

, More from other references
Transparency

Opaque

Gemmological Tables

(2004)

, More from other references
Lustre

Adamantine

Gems, Sixth Edition

(2006)

, More from other references
Crystallography of Proustite
Crystal System

Trigonal

Gemmological Tables

(2004)

, More from other references
Habit

Rhombohedral, prismatic

Gems, Sixth Edition

(2006)

, More from other references
Geological Environment
Where found:

Proustite occurs as a late-forming mineral in hydrothermal deposits in the oxidized and enriched zone, with other silver minerals and sulphides.

Gems, Sixth Edition

(2006)

,
Further Information
Mineral information:
Proustite information at mindat.org
Significant Gem Localities

Chile

Gems, Sixth Edition, Michael O'Donoghue, 2006, p. 440

Peru