Pyrargyrite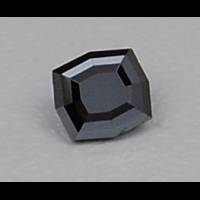 Bolivia
0.94 carats
© Rarestone.com
Pyrargyrite is named after Greek "pyr" - fire and "argyros" - silver, alluding to its red colour and silver content.
Pyrargyrite forms translucent deep red prismatic crystals with adamantine lustre. The material can be very attractive but it may darken on exposure to light.
Transparent crytals of facet-grade are rare.
General Information
Chemical Formula

Gems, Sixth Edition

(2006)

, More from other references
Photos of natural/un-cut material from mindat.org
Physical Properties of Pyrargyrite
Mohs Hardness

2.5 to 3

Gemmological Tables

(2004)

, More from other references
Specific Gravity

5.85

Gemmological Tables

(2004)

, More from other references
Tenacity

Brittle

Handbook of Mineralogy

(2001)

,
Cleavage Quality

Indistinct

Gemstones

(2009)

, More from other references
Fracture

Conchoidal

Gemstones

(2009)

, More from other references
Light Sensitivity

May darken on exposure to light

Gems, Sixth Edition

(2006)

, More from other references
Optical Properties of Pyrargyrite
Refractive Index

2.881 to 3.084

Gemmological Tables

(2004)

, More from other references
Optical Character

Uniaxial/-

Gemmological Tables

(2004)

, More from other references
Birefringence

0.203

Gemmological Tables

(2004)

, More from other references
Pleochroism

Strong

Gemstones

(2009)

, More from other references
Dispersion

Strong

Gemstones

(2009)

,
Colour
Colour (General)

Gray, black, red

Gemmological Tables

(2004)

, More from other references
Transparency

Translucent,Opaque

Gemmological Tables

(2004)

, More from other references
Lustre

Adamantine

Gems, Sixth Edition

(2006)

, More from other references
Crystallography of Pyrargyrite
Crystal System

Trigonal

Gemmological Tables

(2004)

, More from other references
Habit

Prismatic

Gems, Sixth Edition

(2006)

, More from other references
Geological Environment
Where found:

Pyrargyrite occurs in hydrothermal veins as a primary late-stage low-temperature mineral.

Gems, Sixth Edition

(2006)

,
Further Information
Mineral information:
Pyrargyrite information at mindat.org
Significant Gem Localities

Bolivia

Gems, Sixth Edition, Michael O'Donoghue, 2006, p. 441

Chile

Gems, Sixth Edition, Michael O'Donoghue, 2006, p. 441

Peru