Realgar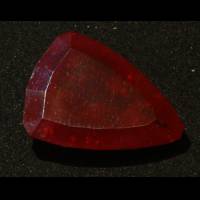 China
7.46 carats
© Rarestone.com
Realgar is named from Arabic "rahj al-gar" - powder of the mine, because it was found in a silver mine.
Realgar forms red to orange-yellow prismatic crystals or granular masses. The crystals disintegrate to a powder after long exposure to light. However, this process takes a very long time. Realgar specimens should be kept in the dark, in an eclosed container.
Realgar is a very rare gem. It is very soft and somewhat unstable.
General Information
Chemical Formula

Gems, Sixth Edition

(2006)

,
Photos of natural/un-cut material from mindat.org
Physical Properties of Realgar
Mohs Hardness

1.5 to 2

Gems, Sixth Edition

(2006)

,
Specific Gravity

3.56

Gems, Sixth Edition

(2006)

,
Tenacity

Brittle,Sectile

Handbook of mineralogy

(2001)

,
Cleavage Quality

Good

Handbook of mineralogy

(2001)

,
Light Sensitivity

Disintegrate to a powder after long exposure to light

Gems, Sixth Edition

(2006)

,
Optical Properties of Realgar
Refractive Index

2.538 to 2.704

Gems, Sixth Edition

(2006)

,
Optical Character

Biaxial/-

Gems, Sixth Edition

(2006)

,
Birefringence

0.166

Gems, Sixth Edition

(2006)

,
Pleochroism

Nearly colorless to pale golden yellow

Handbook of mineralogy

(2001)

,
Dispersion

Very strong

Handbook of mineralogy

(2001)

,
Colour
Colour (General)

Red to orange-yellow

Gems, Sixth Edition

(2006)

, More from other references
Transparency

Transparent

Gems, Sixth Edition

(2006)

, More from other references
Lustre

Greasy

Gems, Sixth Edition

(2006)

, More from other references
Crystallography of Realgar
Crystal System

Monoclinic

Gems, Sixth Edition

(2006)

,
Habit

Prismatic

Gems, Sixth Edition

(2006)

, More from other references
Geological Environment
Where found:
Most commonly as a low-temperature hydrothermal vein mineral associated with As–Sb minerals; also as volcanic sublimations and in hot spring deposits; in carbonate and clay.
sedimentary rocks

Handbook of mineralogy

(2001)

,
Further Information
Mineral information:
Realgar information at mindat.org
Significant Gem Localities

Peru

USA

Gems, Sixth Edition, Michael O'Donoghue, 2006, p. 442
Gems, Sixth Edition, Michael O'Donoghue, 2006, p. 442
Gems, Sixth Edition, Michael O'Donoghue, 2006, p. 442