Rhodizite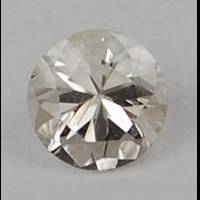 Madagascar
0.80 carats
© Rarestone.com
Rhodizite is named from Greek "rhodizein" - rose-coloured, alluding to the red tinges it gives in a blowpipe flame.
Rhodizite is found as well-formed transparent to translucent colourless to white, sometomes pink, red, yellow-green, yellow, grey crystals.
Rhodizite has a high lustre and hardness, but it is very rare and crystals are usually too small to facet. Faceted stones exceeding 1 carat are uncommon.
General Information
Chemical Formula

Gems, Sixth Edition

(2006)

, More from other references
Photos of natural/un-cut material from mindat.org
Rhodizite Treatments

Irradiation of colorless stone produces intense yellow-(greenish): irradiated and natural color fade on long exposure to sunlight - Blue Chart Gem Identification, Herve Nicolas Lazzarelli, 2010, p 3

Physical Properties of Rhodizite
Mohs Hardness

8 to 8.5

Blue Chart Gem Identification

(2010)

, More from other references
Specific Gravity

3.34 to 3.44

Blue Chart Gem Identification

(2010)

, More from other references
Cleavage Quality

Distinct

Gemstones

(2009)

,
Fracture

Conchoidal

Gemstones

(2009)

,
Optical Properties of Rhodizite
Refractive Index

1.684 to 1.694

Blue Chart Gem Identification

(2010)

, More from other references
Optical Character

Isotropic

Blue Chart Gem Identification

(2010)

, More from other references
Birefringence

Anomalous

Gems, Sixth Edition

(2006)

,
Dispersion

Nil

Gemstones

(2009)

,
Colour
Colour (General)

Colourless, pink, red, yellow-green

Gemmological Tables

(2004)

, More from other references
Transparency

Transparent

Gemmological Tables

(2004)

, More from other references
Lustre

Adamantine,Vitreous

Gemstones

(2009)

,
Fluorescence & other light emissions
Fluorescence (General)

Yellowish to greenish

Gemmological Tables

(2004)

,
Fluorescence (Short Wave UV)

Weak to moderate yellow-green

Blue Chart Gem Identification

(2010)

, More from other references
Fluorescence (X-RAY)

Some specimens give a strong greenish or yellowish response with some phosphorescence

Gems, Sixth Edition

(2006)

,
Crystallography of Rhodizite
Crystal System

Isometric

Blue Chart Gem Identification

(2010)

, More from other references
Habit

Dodecahedra and tetrahedra

Gems, Sixth Edition

(2006)

, More from other references
Geological Environment
Where found:

Rhodizite occurs as a late-stage accessory mineral in alkali-rich granite pegmatites.

Gems, Sixth Edition

(2006)

,
Inclusions in Rhodizite

"Fingerprints", thin needles, growth zoning - Blue Chart Gem Identification, Herve Nicolas Lazzarelli, 2010, p 3

Further Information
Mineral information:
Rhodizite information at mindat.org
Significant Gem Localities

Madagascar

Gems, Sixth Edition, Michael O'Donoghue, 2006, p. 443
Behier, J. (1963): Carte mineralogique de Madagascar. Archive Service Géologique Madagascar. A 1871; [Eur.J.Min 13:159-165];

Russia

Gems, Sixth Edition, Michael O'Donoghue, 2006, p. 443
Gems, Sixth Edition, Michael O'Donoghue, 2006, p. 443