Smithsonite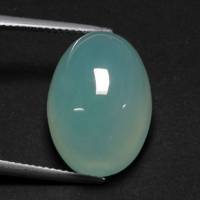 Australia
33.16 carats
© gemselect.com
Smithsonite was named in 1832 in honor of English chemist and mineralogist, James Smithson, who first identified the mineral in 1802.
It usually occurs as earthy botryoidal masses. Grape-like clusters have pearly luster and are often slightly banded. Well-formed crystals are rare.
Bonamite is a trade name for cabochon-cut massive pieces of Smithsonite.
General Information
Other Names/Trade Names:
Chemical Formula

Gems, Sixth Edition

(2006)

, More from other references
Photos of natural/un-cut material from mindat.org
Physical Properties of Smithsonite
Mohs Hardness

5 to 5.5

Blue Chart Gem Identification

(2010)

, More from other references
Specific Gravity

4.00 to 4.65

Gemstones of the world

(2001)

, More from other references
Tenacity

Brittle

Gemstones of the world

(2001)

,
Cleavage Quality

Perfect

Gemstones

(2009)

, More from other references
Fracture

Uneven

Gemstones of the world

(2001)

, More from other references
Optical Properties of Smithsonite
Refractive Index

1.620 to 1.850

Blue Chart Gem Identification

(2010)

, More from other references
Optical Character

Uniaxial/-

Blue Chart Gem Identification

(2010)

, More from other references
Birefringence

0.228

Blue Chart Gem Identification

(2010)

, More from other references
Pleochroism

Absent

Gemstones of the world

(2001)

, More from other references
Dispersion

0.014 to 0.031

Gemstones of the world

(2001)

, More from other references
Colour
Colour (General)

White, yellowish, brown, green, gray, pink, bluish, orange-yellow

Gemmological Tables

(2004)

, More from other references
Causes of Colour
Blue-green, Cu2+. Pink, Co2+

Pragmatic Spectroscopy For Gemologists

(2011)

,
Transparency

Translucent,Opaque

Blue Chart Gem Identification

(2010)

, More from other references
Lustre

Vitreous,Pearly

Gemstones

(2009)

,
Fluorescence & other light emissions
Fluorescence (General)

Blue-white, pink, brown

Gemstones of the world

(2001)

,
Crystallography of Smithsonite
Crystal System

Trigonal

Blue Chart Gem Identification

(2010)

, More from other references
Habit

Botryoidal, rhombohedral

Gemstones

(2009)

, More from other references
Geological Environment
Where found:

Smithsonite occurs as a secondary mineral in the oxidized zone of zinc-bearing deposits.

Gems, Sixth Edition

(2006)

,
Further Information
Mineral information:
Smithsonite information at mindat.org
Significant Gem Localities

Namibia

Palache, C., Berman, H., & Frondel, C. (1951), The System of Mineralogy of James Dwight Dana and Edward Salisbury Dana, Yale University 1837-1892, Volume II: 205, 251, 919.

USA

Magdalena Mining District

Gems, Sixth Edition, Michael O'Donoghue, 2006, p. 452