Sphalerite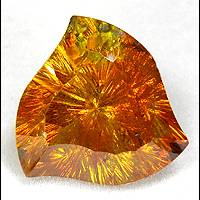 Spain
17.78 carats
© Mineral Classics
Sphalerite is named after Greek word for "mistaken", because the mineral was often mistaken for
galena
, but contained no lead.
Sphalerite forms clear crystals with colours ranging from pale yellow to orange and red shades, with the presence of iron it forms dark, opaque metallic crystals.
Gem-quality material often has yellowish to honey brown, red to orange, or green colour. The brilliant cut best displays sphalerite's high dispersion of 0.156 (three times as high as for diamond). Because of its softness and fragility sphalerite gems are usually used as collector's pieces and sometomes set into pendants.
General Information
Chemical Formula

Gems, Sixth Edition

(2006)

, More from other references
Photos of natural/un-cut material from mindat.org
Synthetic Sphalerite

Synthetic sphalerite - ZnS; Isometric; Colourless, green, yellow; Transparent; Hardness 3-4; RI 2.25 - 2.35; Opt. isotropic; SG 4.03 - 4.09 - Gemmological Tables, Ulrich Henn and Claudio C. Milisenda, 2004, p 30

Physical Properties of Sphalerite
Mohs Hardness

3.5 to 4

Blue Chart Gem Identification

(2010)

, More from other references
Specific Gravity

3.95 to 4.10

Blue Chart Gem Identification

(2010)

, More from other references
Tenacity

Brittle

Gemstones of the world

(2001)

,
Cleavage Quality

Perfect

Blue Chart Gem Identification

(2010)

, More from other references
Fracture

Uneven

Gemstones of the world

(2001)

, More from other references
Optical Properties of Sphalerite
Refractive Index

2.368 to 2.371

Blue Chart Gem Identification

(2010)

, More from other references
Optical Character

Isotropic

Gemmological Tables

(2004)

, More from other references
Birefringence

None

Gemstones of the world

(2001)

,
Pleochroism

Absent

Gemstones of the world

(2001)

,
Dispersion

Very strong

Blue Chart Gem Identification

(2010)

, More from other references
Chatoyancy

Yes

Blue Chart Gem Identification

(2010)

,
Colour
Colour (General)

Opaque: black, gray-brown, cinnamon-colour. Translucent to transparent: yellow, yellow-green, green, red-yellow, yellowish-brown

Gemmological Tables

(2004)

, More from other references
Causes of Colour
Yellow to black, iron

→

sulfur charge transfer. Green, Co2+ in tetrahedral coordination

Pragmatic Spectroscopy For Gemologists

(2011)

,
Transparency

Transparent,Translucent,Opaque

Gemmological Tables

(2004)

, More from other references
Lustre

Adamantine,Greasy

Gemstones of the world

(2001)

, More from other references
Fluorescence & other light emissions
Fluorescence (General)

Inert to strong orangy red

Blue Chart Gem Identification

(2010)

, More from other references
Crystallography of Sphalerite
Crystal System

Isometric

Blue Chart Gem Identification

(2010)

, More from other references
Habit

Tetrahedral, dodecahedral

Gems, Sixth Edition

(2006)

, More from other references
Geological Environment
Where found:

Sphalerite occurs in a variety of hydrothermal conditions and is the chief ore of zinc.

Gems, Sixth Edition

(2006)

,
Further Information
Mineral information:
Sphalerite information at mindat.org
Significant Gem Localities

Bulgaria

mindat.org

China

mindat.org

Peru

Spain

mindat.org