Stichtite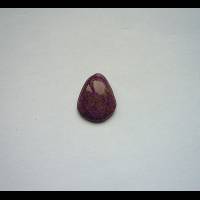 South Africa
4.55 carats
© Giovanni Scapin 2015
Stichtite was discovered in 1910 in Dundas, Tasmania, Australia. It was named after Robert Carl Sticht the manager of the nearby Mt Lyell copper mine.
Stichtite is purplish pink to purplish rose-red in colour and it is often associated with a chromite and green
serpentine
. This combination makes interesting specimens and attractive ornamental stone for carvings.
General Information
Chemical Formula

Gems, Sixth Edition

(2006)

, More from other references
Photos of natural/un-cut material from mindat.org
Physical Properties of Stichtite
Mohs Hardness

1.5 to 2

Gemmological Tables

(2004)

, More from other references
Specific Gravity

2.11 to 2.20

Gemmological Tables

(2004)

, More from other references
Cleavage Quality

Perfect

Gemmological Tables

(2004)

, More from other references
Fracture

Uneven

Gemstones

(2009)

,
Optical Properties of Stichtite
Refractive Index

1.516 to 1.544

Gemmological Tables

(2004)

, More from other references
Optical Character

Uniaxial/-

Gemmological Tables

(2004)

, More from other references
Birefringence

0.024 to 0.028

Gemmological Tables

(2004)

, More from other references
Pleochroism

Distinct

Gemstones

(2009)

,
Dispersion

Nil

Gemstones

(2009)

,
Colour
Colour (General)

Rose-pink, light violet, lilac

Gemmological Tables

(2004)

, More from other references
Transparency

Translucent,Opaque

Gemmological Tables

(2004)

, More from other references
Lustre

Pearly,Greasy

Gemstones

(2009)

,
Crystallography of Stichtite
Crystal System

Trigonal

Gemmological Tables

(2004)

, More from other references
Habit

Aggregates of fibres or plates

Gems, Sixth Edition

(2006)

, More from other references
Geological Environment
Where found:

Occurs as an alteration product of chromite in serpentinite

Gems, Sixth Edition

(2006)

,
Further Information
Mineral information:
Stichtite information at mindat.org
Significant Gem Localities

Australia

Gems, Sixth Edition, Michael O'Donoghue, 2006, p. 456

South Africa

Gert Sibande District Municipality

Chief Albert Luthuli Local Municipality

Gems, Sixth Edition, Michael O'Donoghue, 2006, p. 456