Strontianite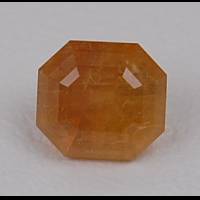 Austria
2.86 carats
© Rarestone.com
Strontianite is named after its discovery locality, at Strontian, Argyllshire, Scotland. The element strontium was discovered in this mineral by Cruikshank in 1790.
Strontianite forms pale grey or pale green, sometimes pale red, brown or colourless, typically short to long prismatic crystals.
Fine crystals are small and are occasionally faceted.
General Information
Chemical Formula

Gemstones of the world

(2001)

, More from other references
Photos of natural/un-cut material from mindat.org
Physical Properties of Strontianite
Mohs Hardness

3.5

Gemstones of the world

(2001)

, More from other references
Specific Gravity

3.63 to 3.79

Gemstones of the world

(2001)

, More from other references
Tenacity

Brittle

Handbook of mineralogy

(2001)

,
Cleavage Quality

Perfect

Gems, Sixth Edition

(2006)

,
Fracture

Uneven,Sub-Conchoidal

Handbook of mineralogy

(2001)

,
Optical Properties of Strontianite
Refractive Index

1.517 to 1.667

Handbook of mineralogy

(2001)

,
Optical Character

Biaxial/-

Handbook of mineralogy

(2001)

,
Dispersion

Weak

Handbook of mineralogy

(2001)

,
Colour
Colour (General)

Light yellow, colourless, white, brown, green, reddish.

Gemstones of the world

(2001)

, More from other references
Transparency

Transparent,Translucent

Gemstones of the world

(2001)

, More from other references
Lustre

Vitreous,Greasy

Gemstones of the world

(2001)

, More from other references
Fluorescence & other light emissions
Fluorescence (General)

Fluorescent under UV

Handbook of mineralogy

(2001)

,
Thermoluminescence

May be thermoluminescent

Handbook of mineralogy

(2001)

,
Crystallography of Strontianite
Crystal System

Orthorhombic

Gemstones of the world

(2001)

, More from other references
Habit

Short to long prismatic crystals

Gems, Sixth Edition

(2006)

, More from other references
Geological Environment
Where found:

Strontianite is an uncommon low-temperature hydrothermal mineral formed in veins in limestone.

Gems, Sixth Edition

(2006)

, More from other references
Further Information
Mineral information:
Strontianite information at mindat.org
Significant Gem Localities

Germany

Lapis 1983(7/8), 48-50