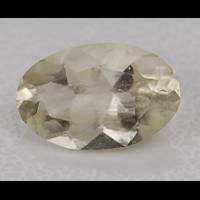 Libyan Desert Glass area, New Valley Governorate, Egypt
1.82 carats
© Rarestone.com
A greenish-yellow natural glass found in the western desert of Egypt. The major component of Libyan Desert Glass is almost pure molten silica glass, Lechatelierite.
The most popular theory of origin is that it was formed due to the impact or atmospheric explosion of a large meteor.