Astrophyllite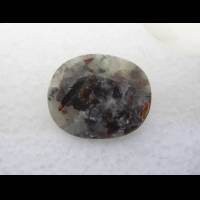 Russia
3.13 carats
© raregemhunter
Astrophyllite is named after Greek "astron" - brilliant (star), plus "phyllon" - a leaf, alluding to its high lustre and foliate habit.
Astrophyllite is usually opaque to translucent, but may be transparent, brown to golden-yellow colour.
Astrophyllite is often cut into slabs and polished. It is sometimes used in jewelry where it is fashioned into cabochons.
General Information
Chemical Formula

Handbook of mineralogy

(2001)

,
Photos of natural/un-cut material from mindat.org
Physical Properties of Astrophyllite
Mohs Hardness

3

Handbook of mineralogy

(2001)

,
Specific Gravity

3.2 to 3.4

Handbook of mineralogy

(2001)

,
Tenacity

Brittle

Handbook of mineralogy

(2001)

,
Cleavage Quality

Perfect,Poor

Handbook of mineralogy

(2001)

,
Optical Properties of Astrophyllite
Refractive Index

1.678 to 1.758

Handbook of mineralogy

(2001)

,
Optical Character

Biaxial/+

Handbook of mineralogy

(2001)

,
Pleochroism

Strong: deep orange-red - orange-yellow - lemon-yellow

Handbook of mineralogy

(2001)

,
Dispersion

Strong

Handbook of mineralogy

(2001)

,
Colour
Colour (General)

Bronze-yellow to gold-yellow, brown to reddish brown

Handbook of mineralogy

(2001)

,
Transparency

Translucent,Opaque

Handbook of mineralogy

(2001)

,
Lustre

Pearly,Greasy,Submetallic

Handbook of mineralogy

(2001)

,
Crystallography of Astrophyllite
Crystal System

Triclinic

Handbook of mineralogy

(2001)

,
Habit

Crystals tabular, bladed or acicular, some faces commonly striated, to 10 cm; groups may be stellate

Handbook of mineralogy

(2001)

,
Geological Environment
Where found:

In nepheline syenites, alkali granites, and their pegmatites; less commonly in fenites and other metasomatized rocks; in nepheline syenite gneisses and paragneisses

Handbook of mineralogy

(2001)

,
Further Information
Mineral information:
Astrophyllite information at mindat.org