Ulexite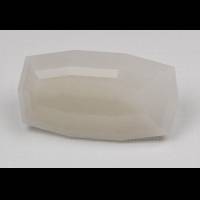 California, USA
8.89 carats
© Rarestone.com
Ulexite is named after G.L. Ulex, German chemist who performed the first correct analysis of the mineral.
Ulexite is called the "TV rock" or "television stone" for its its unusual optical characteristics. Each thin fibrous crystal acts as an optical fibre, transmitting light along its length by internal reflection. A piece of writing placed underneath the stone appears on the surface.
Ulexite decomposes in hot water.
General Information
Chemical Formula

Gems, Sixth Edition

(2006)

,
Photos of natural/un-cut material from mindat.org
Physical Properties of Ulexite
Mohs Hardness

2 to 2.5

Gemstones of the world

(2001)

, More from other references
Specific Gravity

1.65 to 1.99

Blue Chart Gem Identification

(2010)

, More from other references
Tenacity

Brittle

Handbook of mineralogy

(2001)

,
Cleavage Quality

Perfect

Gemstones of the world

(2001)

, More from other references
Fracture

Uneven

Handbook of mineralogy

(2001)

,
Optical Properties of Ulexite
Refractive Index

1.491 to 1.520

Blue Chart Gem Identification

(2010)

, More from other references
Optical Character

Biaxial/+

Gems, Sixth Edition

(2006)

,
Birefringence

0.029

Blue Chart Gem Identification

(2010)

, More from other references
Pleochroism

Absent

Gemstones of the world

(2001)

,
Dispersion

None

Gemstones of the world

(2001)

,
Chatoyancy

Yes

Gemmological Tables

(2004)

,
Colour
Colour (General)

White

Gemmological Tables

(2004)

, More from other references
Transparency

Transparent,Translucent

Gemstones of the world

(2001)

, More from other references
Lustre

Silky

Blue Chart Gem Identification

(2010)

, More from other references
Fluorescence & other light emissions
Fluorescence (General)

May fluoresce yellow, greenish yellow, cream, white under SW and LW

Handbook of mineralogy

(2001)

,
Fluorescence (Short Wave UV)

Blue, green

Blue Chart Gem Identification

(2010)

,
Crystallography of Ulexite
Crystal System

Monoclinic

Gemstones of the world

(2001)

, More from other references
Habit

Fibrous crystals

Blue Chart Gem Identification

(2010)

, More from other references
Geological Environment
Where found:

Ulexite occurs in dry lakes and playa deposits, with other borates.

Gems, Sixth Edition

(2006)

, More from other references
Further Information
Mineral information:
Ulexite information at mindat.org
Significant Gem Localities

USA

Gemstones of the world, W.Schumann, 2001, p 202