Villiaumite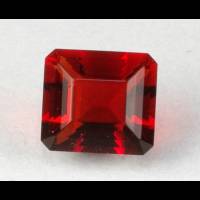 Mont Saint-Hilaire, La Vallée-du-Richelieu RCM, Montérégie, Québec, Canada
0.93 carats
© Rarestone.com
Villiaumite is named after Maxime Villiaume, officer in the colonial artillery corps stationed in northern Madagascar, whose help in the acquisition of mineral and rock collections from Madagascar and Guinea proved invaluable to Alfred Lacroix.
Villiaumite forms translucent to transparent carmine-red to lavender-pink granular masses and rarely cubic crystals. Villiaumite is likely to be soluble in hot water.
Villiaumite has been faceted, but the cut stones are usually very small.
General Information
Chemical Formula

Gemmological Tables

(2004)

, More from other references
Photos of natural/un-cut material from mindat.org
Physical Properties of Villiaumite
Mohs Hardness

2

Gemmological Tables

(2004)

, More from other references
Specific Gravity

2.79

Gemmological Tables

(2004)

, More from other references
Tenacity

Brittle

Handbook of mineralogy

(2001)

,
Cleavage Quality

Distinct

Gemmological Tables

(2004)

, More from other references
Optical Properties of Villiaumite
Refractive Index

1.328 to 1.332

Gemmological Tables

(2004)

, More from other references
Optical Character

Isotropic

Gemmological Tables

(2004)

, More from other references
Pleochroism

Yellow to pink/deep carmine

Gems, Sixth Edition

(2006)

,
Colour
Colour (General)

Red

Gemmological Tables

(2004)

, More from other references
Transparency

Transparent

Gemmological Tables

(2004)

, More from other references
Lustre

Vitreous

Handbook of mineralogy

(2001)

,
Fluorescence & other light emissions
Fluorescence (General)

Dark red to orange and yellow fluorescence under SW and LW UV

Handbook of mineralogy

(2001)

,
Fluorescence (Short Wave UV)

May show weak red fluorescence

Gems, Sixth Edition

(2006)

,
Crystallography of Villiaumite
Crystal System

Isometric

Gemmological Tables

(2004)

, More from other references
Habit

Granular masses

Gems, Sixth Edition

(2006)

, More from other references
Geological Environment
Where found:

Villiaumite occurs in nepheline syenite and nepheline syenite pegmatites.

Gems, Sixth Edition

(2006)

, More from other references
Further Information
Mineral information:
Villiaumite information at mindat.org
Significant Gem Localities

Canada

La Vallée-du-Richelieu RCM

Guinea

Los Archipelago (Los Islands)

Gems, Sixth Edition, Michael O'Donoghue, 2006, p. 464