Wulfenite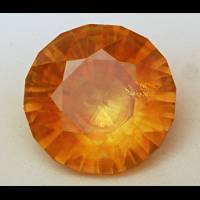 Tsumeb, Oshikoto Region, Namibia
11.31 carats
© Rarestone.com
Wulfenite was named after Franz Xavier von Wulfen, an Austrian mineralogist. It was first described in 1845 for an occurrence in Bad Bleiberg, Carinthia, Austria.
It occurs as thin tabular crystals with a bright orange-red to yellow-orange colour, sometimes brown.
Wulfenite has very attractive gemmy appearance, but the crystals are often much too thin and brittle for cutting.
General Information
Chemical Formula

Gemstones of the world

(2001)

,
Photos of natural/un-cut material from mindat.org
Physical Properties of Wulfenite
Mohs Hardness

3

Gemstones of the world

(2001)

, More from other references
Specific Gravity

6.50 to 7.00

Gemstones of the world

(2001)

,
Tenacity

Brittle

Gemstones of the world

(2001)

,
Heat Sensitivity

Very sensitive

Gemstones of the world

(2001)

,
Optical Properties of Wulfenite
Refractive Index

2.280 to 2.405

Blue Chart Gem Identification

(2010)

, More from other references
Optical Character

Uniaxial/-

Blue Chart Gem Identification

(2010)

,
Birefringence

0.120 to 0.122

Blue Chart Gem Identification

(2010)

,
Colour
Colour (General)

Honey-yellow, orange, red.

Gemstones of the world

(2001)

, More from other references
Transparency

Transparent,Translucent

Gemstones of the world

(2001)

,
Lustre

Adamantine,Resinous

Gemstones of the world

(2001)

,
Fluorescence & other light emissions
Fluorescence (Long-Wave UV)

Inert to weak purplish

Blue Chart Gem Identification

(2010)

,
Crystallography of Wulfenite
Crystal System

Tetragonal

Gemstones of the world

(2001)

, More from other references
Habit

Individual crystals are usually square, flat tabular.

Gems, Sixth Edition

(2006)

,
Geological Environment
Where found:

Occurs as a secondary mineral formed in the oxidized zone of hydrothermal lead deposits with the Mo commonly introduced externally.

Gems, Sixth Edition

(2006)

,
Further Information
Mineral information:
Wulfenite information at mindat.org
Significant Gem Localities

Austria

Namibia

USA

Painted Rock Mining District

Tucson Mountain District Saguaro National Park

Glove Mine group (Zombie & Zeco claims; Festiago-Franklin; Blacksmith adit)