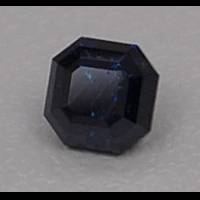 Boleo District, Santa Rosalía, Mulegé Municipality, Baja California Sur, Mexico
1.27 carats
© Rarestone.com
Boleite was named after El Boleo mine, on the Baja Peninsula, near Santa Rosalia, Mexico, where it was first collected as a very minor ore of silver, copper and lead.
Boleite forms deep blue cubes over half an inch on each side, which consist of pseudo-octahedral tetragonal dipyramids.
Soft, cleavable, twinned crystals of boleite are very difficult to facet.