Boracite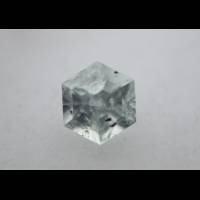 Freiberg, Mittelsachsen, Saxony, Germany
.63 carats
© raregemhunter
Boracite is named after its boron content.
Boracite produces crystals of various colours with vitreous to adamantine lustre. It has good clarity and hardness, but it is slightly soluble in water. This fact limits the use of boracite as a gemstone.
Faceted stones seldom exceed 1 carat in weight and are quite rare.
General Information
Chemical Formula

Gems, Sixth Edition

(2006)

, More from other references
Photos of natural/un-cut material from mindat.org
Physical Properties of Boracite
Mohs Hardness

7 to 7.5

Gemstones of the world

(2001)

, More from other references
Specific Gravity

2.95 to 2.96

Gemstones of the world

(2001)

, More from other references
Tenacity

Brittle

Gemstones

(2009)

,
Cleavage Quality

Poor

Gemstones

(2009)

,
Fracture

Conchoidal

Gemstones

(2009)

,
Optical Properties of Boracite
Refractive Index

1.658 to 1.673

Gemmological Tables

(2004)

, More from other references
Optical Character

Biaxial/+

Gemmological Tables

(2004)

, More from other references
Birefringence

0.010 to 0.011

Gemmological Tables

(2004)

, More from other references
Pleochroism

Nil

Gemstones

(2009)

,
Dispersion

Nil

Gemstones

(2009)

,
Colour
Colour (General)

Light green, colourless, white, yellow, bluish.

Gemstones of the world

(2001)

, More from other references
Transparency

Transparent,Translucent

Gemstones of the world

(2001)

, More from other references
Lustre

Adamantine,Vitreous

Gems, Sixth Edition

(2006)

, More from other references
Fluorescence & other light emissions
Fluorescence (General)

Very weak greenish fluorescence

Gems, Sixth Edition

(2006)

,
Crystallography of Boracite
Crystal System

Orthorhombic

Gemmological Tables

(2004)

, More from other references
Habit

Pseudo-cubic, octahedrons, dodecahedrons, tetrahedrons

Gemstones

(2009)

,
Geological Environment
Where found:

Boracite is found in evaporite deposits, usually associated with gypsum, anhydrite and/or halite.

Gemstones

(2009)

,
Further Information
Mineral information:
Boracite information at mindat.org
Significant Gem Localities