Cancrinite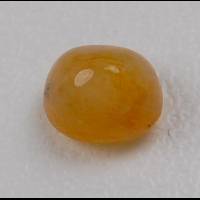 Canada
1.40 carats
© Rarestone.com
Cancrinite is named after Count Georg Cancrin, Russian Minister of Finance.
Cancrinite usually occurs in a massive form or as crystals of the hexagonal system. Light greyish purple, yellow, violet and orange Cancrinite has come from Canadian sources and a blue variety from Greenland.
A semi-opaque yellow-coloured fibrous variety of Cancrinite has been cut into cabochons and beads.
General Information
Chemical Formula

Gemstones of the world

(2001)

, More from other references
Photos of natural/un-cut material from mindat.org
Cancrinite Treatments

Colorless material that has been reported to acquire blue veins on being irradiated with X-rays (Pough and Rogers, 1947). One assumes that this is the fibrous variety described by Webster . One would expect this change to be reversed by heat, and fading in light is also a possibility – Nassau (1984)

Physical Properties of Cancrinite
Mohs Hardness

5 to 6

Blue Chart Gem Identification

(2010)

, More from other references
Specific Gravity

2.42 to 2.52

Blue Chart Gem Identification

(2010)

, More from other references
Cleavage Quality

Perfect

Blue Chart Gem Identification

(2010)

, More from other references
Fracture

Conchoidal

Gemstones

(2009)

,
Optical Properties of Cancrinite
Refractive Index

1.491 to 1.524

Blue Chart Gem Identification

(2010)

, More from other references
Optical Character

Uniaxial/-

Blue Chart Gem Identification

(2010)

, More from other references
Birefringence

0.022 to 0.026

Blue Chart Gem Identification

(2010)

, More from other references
Colour
Colour (General)

Yellow, orange, colourless, white, bluish, pink.

Gemstones of the world

(2001)

, More from other references
Transparency

Transparent,Translucent

Gemstones of the world

(2001)

, More from other references
Lustre

Vitreous,Pearly

Gemstones

(2009)

,
Fluorescence & other light emissions
Fluorescence (General)

Inert

Blue Chart Gem Identification

(2010)

, More from other references
Fluorescence (X-RAY)

Orange-yellow response

Gems, Sixth Edition

(2006)

,
Crystallography of Cancrinite
Crystal System

Hexagonal

Blue Chart Gem Identification

(2010)

, More from other references
Habit

Fibrous aggregate

Blue Chart Gem Identification

(2010)

, More from other references
Geological Environment
Where found:

Cancrinite is found in pegmatites in nepheline syenites

Gems, Sixth Edition

(2006)

,
Further Information
Mineral information:
Cancrinite information at mindat.org
Significant Gem Localities

Canada

Gems, Sixth Edition, Michael O'Donoghue, 2006, p. 394
Gems, Sixth Edition, Michael O'Donoghue, 2006, p. 394

Myanmar

Ted Themelis (2008) Gems & mines of Mogok