Carnelian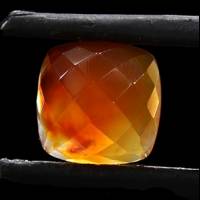 Mozambique
3.84 carats
© Brian Kosnar - Mineral Classics
Carnelian is probably named after the colour of the kornel cherry because of its colour. It is brownish red to orange, translucent to opaque
Chalcedony
variety. In some cases portions of the stone are paler than others, and specimens with a pale central portion passing gradually into a dark coloured exterior are not uncommon.
Many stones, which in the natural condition are of a dirty yellow colour and unsuitable for gems, on being heated acquire the fine carnelian colour, and with it a considerable increase in value.
When held against the light, the colour variety shows stripes, natural carnelian shows a cloudy distribution of colour.
General Information
A variety or type of:
Chalcedony, which is a variety of Quartz
Other Names/Trade Names:
Chemical Formula

Management Team

(2012)

,
Photos of natural/un-cut material from mindat.org
Carnelian Treatments

The colour can be enhanced by heating. - Gemstones of the world, Walter Schumann, 2001, p 126

Carnelian Simulants

Most carnelians offered today are agates which are dyed and then heat-treated. - Gemstones of the world, Walter Schumann, 2001, p 126

Physical Properties of Carnelian
Mohs Hardness

6.5 to 7

Blue Chart Gem Identification

(2010)

,
Specific Gravity

2.58 to 2.64

Gemstones of the world

(2001)

, More from other references
Cleavage Quality

None

Gemstones of the world

(2001)

,
Fracture

Uneven

Gemstones of the world

(2001)

,
Optical Properties of Carnelian
Refractive Index

1.535 to 1.539

Blue Chart Gem Identification

(2010)

,
Optical Character

Uniaxial/+

Gemmological Tables

(2004)

,
Birefringence

0.003 to 0.009

Blue Chart Gem Identification

(2010)

,
Pleochroism

Absent

Gemstones of the world

(2001)

,
Dispersion

None

Gemstones of the world

(2001)

,
Colour
Colour (General)

Red, orange, reddish

Management Team

(2012)

,
Causes of Colour

Orange to red, submicroscopic to microscopic inclusions of hydrous Fe oxides

Pragmatic Spectroscopy For Gemologists

(2011)

,
Transparency

Translucent,Opaque

Blue Chart Gem Identification

(2010)

,
Lustre

Waxy,Resinous

Gemstones

(2009)

,
Fluorescence & other light emissions
Fluorescence (General)

Blue-white

Gemstones of the world

(2001)

,
Crystallography of Carnelian
Crystal System

Trigonal

Gemmological Tables

(2004)

,
Habit

Fibrous to grained aggregate

Gemmological Tables

(2004)

,
Further Information
Mineral information:
Carnelian information at mindat.org
Significant Gem Localities

Peru

Sri Lanka