Cerussite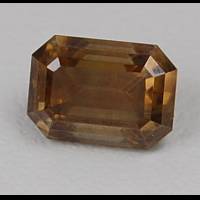 Tsumeb, Oshikoto Region, Namibia
7.32 carats
© Rarestone.com
Cerussite is named after Latin "cerussa" meaning "white lead", an ancient term for artificial lead carbonate.
Cerussite is usually transparent to translucent, colourless or white, sometimes has gray, brownish or greenish tint. The mineral occurs as compact granular masses, and sometimes in fibrous forms. Very bright crystals are often.
Cerussite is frequently twinned: elbow- or chevron-shaped twins, cyclic twins and reticulated twins. Three crystals are often twinned together to produce six-rayed stellate groups with the individual crystals crossing at a 60°angle.
General Information
Chemical Formula

Gems, Sixth Edition

(2006)

, More from other references
Photos of natural/un-cut material from mindat.org
Physical Properties of Cerussite
Mohs Hardness

3 to 3.5

Blue Chart Gem Identification

(2010)

, More from other references
Specific Gravity

6.46 to 6.57

Blue Chart Gem Identification

(2010)

, More from other references
Tenacity

Brittle

Gemstones of the world

(2001)

, More from other references
Cleavage Quality

Good

Gemstones of the world

(2001)

, More from other references
Fracture

Uneven,Conchoidal

Gemstones of the world

(2001)

, More from other references
Heat Sensitivity

High

Gemstones

(2009)

,
Optical Properties of Cerussite
Refractive Index

1.803 to 2.078

Blue Chart Gem Identification

(2010)

, More from other references
Optical Character

Biaxial/-

Blue Chart Gem Identification

(2010)

, More from other references
Birefringence

0.274

Blue Chart Gem Identification

(2010)

, More from other references
Pleochroism

Absent

Gemstones of the world

(2001)

, More from other references
Dispersion

0.055

Gems, Sixth Edition

(2006)

, More from other references
Chatoyancy

Yes

Blue Chart Gem Identification

(2010)

,
Colour
Colour (General)

White, brownish, gray, black, blue-green, colourless

Gemmological Tables

(2004)

, More from other references
Transparency

Transparent,Translucent,Opaque

Gemmological Tables

(2004)

, More from other references
Lustre

Adamantine

Gems, Sixth Edition

(2006)

, More from other references
Fluorescence & other light emissions
Fluorescence (General)

Yellow, pink, green, bluish

Gemstones of the world

(2001)

,
Fluorescence (Short Wave UV)

Common pale blue to green

Blue Chart Gem Identification

(2010)

, More from other references
Fluorescence (Long-Wave UV)

Inert to bright yellow orange

Blue Chart Gem Identification

(2010)

, More from other references
Crystallography of Cerussite
Crystal System

Orthorhombic

Blue Chart Gem Identification

(2010)

, More from other references
Habit

Tabular, columnar

Gemstones of the world

(2001)

, More from other references
Geological Environment
Where found:
It is found in the oxidation zone of lead deposits, usually in association with galena and other ore minerals.

Gemstones

(2009)

,
Further Information
Mineral information:
Cerussite information at mindat.org
Significant Gem Localities

Namibia

Gems, Sixth Edition, Michael O'Donoghue, 2006, p. 397