Charoite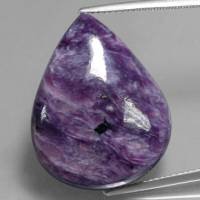 Russia
28.22 carats
© gemselect.com
Charoite is named after Russian "chary" - charms or magic, alluding to the impression that the mineral's colour and iridescence impart. It was first found in Murun Complex, Yakutiya, Russia.
Charoite has deep violet to lilac colour, depending on accompanying minerals it can be white- or black-spotted or flamed.
Charoite produces attractive cabochons and ornaments, it can be fashioned into beads.
General Information
Chemical Formula

Gems, Sixth Edition

(2006)

, More from other references
Photos of natural/un-cut material from mindat.org
Physical Properties of Charoite
Mohs Hardness

5 to 6

Blue Chart Gem Identification

(2010)

, More from other references
Specific Gravity

2.54 to 2.78

Blue Chart Gem Identification

(2010)

, More from other references
Cleavage Quality

Fair

Gemmological Tables

(2004)

, More from other references
Fracture

Conchoidal

Gemstones

(2009)

,
Optical Properties of Charoite
Refractive Index

1.545 to 1.560

Blue Chart Gem Identification

(2010)

, More from other references
Optical Character

Biaxial/+

Gemmological Tables

(2004)

,
Birefringence

0.009

Blue Chart Gem Identification

(2010)

, More from other references
Pleochroism

Nil

Gemstones

(2009)

,
Dispersion

Nil

Gemstones

(2009)

,
Colour
Colour (General)

Violet with white to black swirls

Blue Chart Gem Identification

(2010)

, More from other references
Transparency

Translucent,Opaque

Blue Chart Gem Identification

(2010)

, More from other references
Lustre

Vitreous,Silky

Gemstones of the world

(2001)

, More from other references
Crystallography of Charoite
Crystal System

Monoclinic

Blue Chart Gem Identification

(2010)

, More from other references
Habit

Massive

Gems, Sixth Edition

(2006)

, More from other references
Geological Environment
Where found:

Charoite occurs in potassic feldspar metasomatites at the contact of nepheline and aegririne syenites with limestones.The combination of charoite with some of its associated minerals makes attractive ornaments.

Gems, Sixth Edition

(2006)

,
Inclusions in Charoite
Flame-like inclusions. The common "charoite" is a rock composed of various minerals (charoite, feldspar, augite, etc) - Blue Chart Gem Identification, Herve Nicolas Lazzarelli, 2010, p 6
Forms an attractive ornametal material together with greenish-black aegirine-augite, orange-gray feldspar (microcline) and orange tinaksite - Gemmological Tables, Ulrich Henn and Claudio C. Milisenda, 2004, p 9
Further Information
Mineral information:
Charoite information at mindat.org
Significant Gem Localities

Russia

Chara and Tokko Rivers Confluence

Konev et al. (1993)