Chrysocolla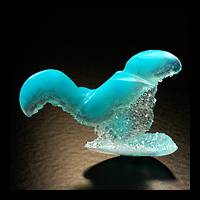 USA
16.46 carats
© Palagems
The name Chrysocolla derives from Greek chrysos - gold and kolla - glue, referring to its use as a flux in soldering gold. The term was used from antiquity.
Pure chrysocolla is a soft and fragile material. Much of the chrysocolla used in jewellery consists of very attractive cabochons of green or blue chrysocolla impregnating either
rock crystal
or
opal
.
Chrysocolla is often found in a matrix of quartz, in which case the optical and physical properties may be closer to those of
quartz
.
Chrysocolla covered by druses of small sparkling quartz crystals is called "Drusy Chrysocolla" and is very popular for jewelry. It is found in Peru.
The rarest and best quality is chrysocolla chalcedony with turquoise-like colour, but harder and chemically more stable than
turquise
. It comes from several copper mines in Arizona, Mexico, Taiwan and Peru.
See also:
Eilat Stone
, a blue-green gem material from Israel that contains Chrysocolla.
General Information
Other Names/Trade Names:
Chemical Formula

Gems, Sixth Edition

(2006)

, More from other references
Photos of natural/un-cut material from mindat.org
Chrysocolla Treatments
These copper-containing minerals have blue-to-green color and occur together with other copper minerals, as well as in a disseminated form in chalcedony, opal, and quartz (Webster). Dyeing has been used to enhance the color and to make it resemble turquoise or other gemstones – Nassau (1984)
Physical Properties of Chrysocolla
Mohs Hardness

2 to 4

Blue Chart Gem Identification

(2010)

, More from other references
Specific Gravity

2.00 to 2.45+

Blue Chart Gem Identification

(2010)

, More from other references
Tenacity

Brittle

Gems, Sixth Edition

(2006)

,
Cleavage Quality

None

Gemstones of the world

(2001)

,
Fracture

Conchoidal

Gemstones

(2009)

,
Optical Properties of Chrysocolla
Refractive Index

1.460 to 1.570

Gemstones of the world

(2001)

, More from other references
Optical Character

Biaxial/-

Gemmological Tables

(2004)

,
Birefringence

0.023 to 0.040

Gemstones of the world

(2001)

, More from other references
Pleochroism

Absent

Gemstones of the world

(2001)

, More from other references
Dispersion

None

Gemstones of the world

(2001)

,
Colour
Colour (General)

Green to blue veins and patches

Blue Chart Gem Identification

(2010)

, More from other references
Causes of Colour
Blue, Cu2+ in octahedral coordination

Pragmatic Spectroscopy For Gemologists

(2011)

,
Transparency

Opaque

Gemmological Tables

(2004)

, More from other references
Lustre

Vitreous,Waxy

Gemstones

(2009)

,
Fluorescence & other light emissions
Fluorescence (General)

None

Gemstones of the world

(2001)

,
Crystallography of Chrysocolla
Crystal System

Monoclinic

Gemstones of the world

(2001)

, More from other references
Habit

Compact grape-like aggregates (botryoidal)

Gemstones of the world

(2001)

, More from other references
Geological Environment
Where found:
Chrysocolla is a mineral of secondary origin occurring in the oxidized zones of copper deposits where it may be mixed with malachite or
turquoise

Gems, Sixth Edition

(2006)

,
Inclusions in Chrysocolla

Common intergrown with chalcedony, malachite and others - Gemmological Tables, Ulrich Henn and Claudio C. Milisenda, 2004, p 12

Further Information
Mineral information:
Chrysocolla information at mindat.org
Significant Gem Localities

Israel

Southern District (HaDarom District)

Gems, Sixth Edition, Michael O'Donoghue, 2006, p. 400

Peru

J.Hyrsl (2012) Gemstones of Peru, p. 50

USA

Globe-Miami Mining District

Globe Hills Mining District

mindat.org