Opal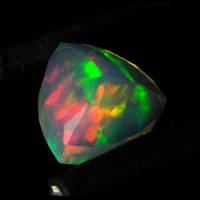 Hydrophane
Ethiopia
1.50 carats
© Kosnar Gem Co.
The name is derived from an Indian (Sanskrit) word for "stone". Opal consists of silica and water. The amount of water varies in different specimens.
Opal is divided into three subgroups:
Precious Opal
, yellow-red
Fire Opal
, and
Common Opal
. Their physical properties vary considerably. Precious Opal is conspicuous amongst all others for the magnificent play of colours produced by the refraction and reflection of light in its colourless substance.
The lustre is usually of the common vitreous type, though in some opals it may be greasy, resinous, or waxy. The lustre of natural specimens is only moderately strong, it is increased by cutting and polishing, but even then is in no way remarkable. Both common and precious varieties of opal are, as a rule, cloudy, being at the best only translucent or semi-transparent. In a pure condition the mineral is perfectly colourless, the tint of the coloured varieties is due to the presence of impurities. In colour these varieties are usually brown, yellow, or red, of various shades. Green opal is rare, black opal is known, and the cloudy varieties of milk opal are white.
General Information
Varieties/Types:
Chemical Formula

Gemmological Tables

(2004)

, More from other references
Significant stones
Photos of natural/un-cut material from mindat.org
Opal Simulants
Several good imitations made from glass or plastic are known. In 1970, a synthesis of White opal and Black opal succeded. Fakes are prepared by colouring Black opal or Matrix opal in order to liven up the play-of-colour. - Gemstones of the world, Walter Schumann, 2001, p 152
Synthetic Opal

Synthetic opal: RI 1.440 - 1.450; opt. isotropic; SG 1.74 - 2.07; Colours: colourless, white, black, red; Play of colour: red, orange, yellow, green, blue, violet; Transparent to opaque; Hardness 5.5 - 6.5. Clearly separated colour patches, "lizard-skin effect", columnar structure perpendicular to the "lizard-skin effect" - Gemmological Tables, Ulrich Henn and Claudio C. Milisenda, 2004, p 1

Physical Properties of Opal
Mohs Hardness

5 to 6.5

Blue Chart Gem Identification

(2010)

, More from other references
Specific Gravity

1.98 to 2.25

Blue Chart Gem Identification

(2010)

, More from other references
Tenacity

Brittle

Gemstones of the world

(2001)

,
Cleavage Quality

None

Gemstones of the world

(2001)

,
Fracture

Conchoidal,Splintery

Gemstones of the world

(2001)

, More from other references
Heat Sensitivity

When heated opal is easily fractured.The constituent water is expelled below a red-hit, when the specimen, if not so, becomes cloudy and opaque.

Precious Stones

(1968)

Dover Publications

,
Optical Properties of Opal
Refractive Index

1.37 to 1.52

Gemstones of the world

(2001)

, More from other references
Optical Character

Isotropic

Gemstones

(2009)

,
Birefringence

None

Gemstones of the world

(2001)

,
Pleochroism

Absent

Gemstones of the world

(2001)

,
Dispersion

None

Gemstones of the world

(2001)

,
Colour
Colour (General)

Black, white, colourless, red, yellow, bluish

Gemmological Tables

(2004)

, More from other references
Causes of Colour
Multicolors (play of color opal), diffraction by the regular stacking of silica spheres. Orange to red (fire opal), microscopic to sub-microscopic inclusions of iron hydrous oxides. Green (prase opal), microscopic to submicroscopic nickeliferous clay-like inclusions

Pragmatic Spectroscopy For Gemologists

(2011)

,
Transparency

Transparent,Translucent,Opaque

Gemmological Tables

(2004)

, More from other references
Lustre

Vitreous

Gemstones

(2009)

,
Fluorescence & other light emissions
Fluorescence (Short Wave UV)

Commonly green or yellow, occasionally green-yellow, rarely yellow or red

Gemmological Tables

(2004)

,
Fluorescence (Long-Wave UV)

Many WHITE and light opals glow bluish-white and phosphorescence yellowish-green

Blue Chart Gem Identification

(2010)

, More from other references
Crystallography of Opal
Crystal System

Amorphous

Blue Chart Gem Identification

(2010)

, More from other references
Habit

Kidney- or grape-shaped aggregates

Gemstones of the world

(2001)

, More from other references
Geological Environment
Where found:
Much of the finest opal occurs in thin seams and has to be recovered together with its underlying rock (matrix). Alternatively some fine opal is found as nodules.
('nobbies' in Australia).

Gems, Sixth Edition

(2006)

,
Inclusions in Opal

Swirl-like exsolutions, goethite, chalcedony etc., liquid- and multiphase inclusions - Gemmological Tables, Ulrich Henn and Claudio C. Milisenda, 2004, p 1

Further Information
Mineral information:
Opal information at mindat.org
Significant Gem Localities

Australia

Thomas et al. (2006)
Thomas et al. (2006)
Cooper and Neville (2007)
[var: Precious Opal] Cooper and Neville (2007)
Opal, Lithographie, 2007
[Precious Opal var: Boulder Opal] Opal, Lithographie, 2007
Cooper and Neville (2007)
Wise (1993)
Townsend (2006, 2009)
Townsend (2006, 2009)
Townsend (2006, 2009)
Townsend (2006, 2009)
Opal, Lithographie, 2007

Brazil

Farrar (2007)
Knigge and Milisenda (1997)
[var: Fire Opal] H. Henriques

Canada

Downing (2003)

Ethiopia

Mazzero (2003)
Mazzero et al. (2009)
[var: Precious Opal]
Mazzero et al. (2009)

Honduras

[var: Fire Opal] Banerjee and Wenzel (1999)

Viti and Gemmi (2009)

Indonesia

[var: Precious Opal] Laurs (2001)

Rejang Lebong District (Rediang Lebong District)

Lambert and Brown (1994)
Laurs (2001)

Mexico

[Common Opal var: Pink Opal]
[var: Fire Opal] Coenraads and Zenil (2006)
[var: Fire Opal] Michelou (2006)
[var: Precious Opal] mindat.org
[var: Precious Opal] mindat.org

Peru

Hyrsl (2001, 2007)
[Precious Opal var: White Opal]
[Common Opal var: Honey Opal]

Tanzania

Keller (1992)
http://www.ganoksin.com/borisat/nenam/tanzania-mines.htm

USA

Sinkankas (1997)
[var: Precious Opal] Gaber (2007)
Gaber (2007)
Sinkankas (1997)
[var: Fire Opal] Laurs and Quinn (2003)
Holzhey (1997)