Eudialyte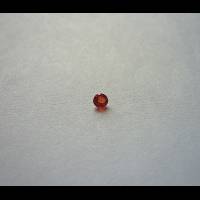 Mont Saint-Hilaire, La Vallée-du-Richelieu RCM, Montérégie, Québec, Canada
0.09 carats
© Giovanni Scapin 2015
Eudialyte is named from Greek "eu" - well and "dialytos" - dissolved, alluding to its easy solubility in acids.
Transparent to translucent red to reddish brown eudialyte can occur as crystals or masses. Well-formed crystals are very rare, but faceted stones are very popular because of their attractive colouring. Small bright red crystals come from Mt Saint Hilaire, Quebec, Canada.
The massive eudialyte makes attractive cabochons and spheres. This material is found in Kola Peninsula, Russia.
General Information
Chemical Formula

| | | | | | | | | | | |
| --- | --- | --- | --- | --- | --- | --- | --- | --- | --- | --- |
| Na | | (Ca,Ce) | | (Fe,Mn,Y)ZrSi | | O | | (OH,Cl) | | |

Gemmological Tables

(2004)

, More from other references
Photos of natural/un-cut material from mindat.org
Physical Properties of Eudialyte
Mohs Hardness

5 to 5.5

Blue Chart Gem Identification

(2010)

, More from other references
Specific Gravity

2.74 to 3.00

Blue Chart Gem Identification

(2010)

, More from other references
Cleavage Quality

Poor

Gemstones

(2009)

,
Fracture

Uneven

Gemstones

(2009)

,
Optical Properties of Eudialyte
Refractive Index

1.591 to 1.633

Blue Chart Gem Identification

(2010)

, More from other references
Optical Character

Uniaxial/+

Blue Chart Gem Identification

(2010)

, More from other references
Birefringence

0.003 to 0.010

Blue Chart Gem Identification

(2010)

, More from other references
Pleochroism

Weak

Gemstones

(2009)

,
Dispersion

Nil

Gemstones

(2009)

,
Colour
Colour (General)

Brown-red, brown, pink.

Gemstones of the world

(2001)

, More from other references
Transparency

Translucent,Opaque

Blue Chart Gem Identification

(2010)

, More from other references
Lustre

Vitreous

Gemstones

(2009)

,
Crystallography of Eudialyte
Crystal System

Trigonal

Gemstones of the world

(2001)

, More from other references
Habit

Short rhombohedral to prismatic crystals

Gems, Sixth Edition

(2006)

, More from other references
Geological Environment
Where found:

Occurs in nepheline syenites, alkalic granites and associated pegmatites

Gems, Sixth Edition

(2006)

,
Further Information
Mineral information:
Eudialyte information at mindat.org
Significant Gem Localities

Canada

Les Lacs-du-Témiscamingue

Gems, Sixth Edition, Michael O'Donoghue, 2006, p. 410

La Vallée-du-Richelieu RCM

Gems, Sixth Edition, Michael O'Donoghue, 2006, p. 410

Russia