Gypsum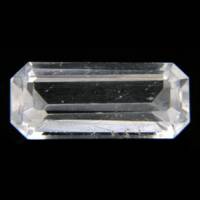 Strkovice, Žatec, Louny District, Ústí nad Labem Region, Czech Republic
8.26 carats
© irocks.com
Gypsum is named from Greek "gypsos" - plaster, alluding to its practical use. It has been known from antiquity.
Gypsum is a very common mineral in sedimentary environments. It is found as massive material (
Alabaster
), clear crystals (
Selenite
) and parallel fibrous variety (
Satin spar
).
Gypsum is very soft and very difficult to facet because of its perfect cleavage, therefore faceted stones are quite rare.
General Information
Varieties/Types:

Alabaster

- A fine-grained massive form of Gypsum.

Selenite

- Transparent, colourless variety of Gypsum.

Chemical Formula

Gemstones

(2009)

,
Photos of natural/un-cut material from mindat.org
Physical Properties of Gypsum
Mohs Hardness

2

Gemstones of the world

(2001)

, More from other references
Specific Gravity

2.20 to 2.40

Gemstones of the world

(2001)

, More from other references
Cleavage Quality

Perfect

Gemmological Tables

(2004)

, More from other references
Fracture

Uneven

Gemstones

(2009)

,
Heat Sensitivity

Very sensitive

Gemstones of the world

(2001)

,
Optical Properties of Gypsum
Refractive Index

1.521 to 1.531

Gemmological Tables

(2004)

, More from other references
Optical Character

Biaxial/+

Gemmological Tables

(2004)

, More from other references
Birefringence

0.010

Gemmological Tables

(2004)

, More from other references
Pleochroism

Nil

Gemstones

(2009)

,
Dispersion

Nil

Gemstones

(2009)

,
Chatoyancy

Yes

Gemmological Tables

(2004)

,
Colour
Colour (General)

White, yellowish, colourless, pink, bluish.

Gemstones of the world

(2001)

, More from other references
Transparency

Transparent,Translucent,Opaque

Gemstones of the world

(2001)

, More from other references
Lustre

Vitreous,Silky

Gemstones of the world

(2001)

, More from other references
Crystallography of Gypsum
Crystal System

Monoclinic

Gemstones of the world

(2001)

, More from other references
Habit

Tabular

Gemstones

(2009)

,
Further Information
Mineral information:
Gypsum information at mindat.org
Significant Gem Localities

Czech Republic

Italy

[var: Alabaster] Gems, Sixth Edition, Michael O'Donoghue , 2006, p. 378

Peru

[var: Alabaster]

UK

[var: Alabaster] Gems, Sixth Edition, Michael O'Donoghue , 2006, p. 379