Herderite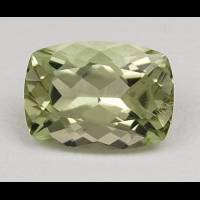 Brazil
4.07 carats
© Rarestone.com
Herderite is named after Siegmund A.W. von Herder, mining official of Freiberg, Saxony, Germany.
Herderite forms good single crystals, twinning is common. Gem material is transparent and has a range of colours, including yellow, blue, pink, violet and green, some crystals are colourless.
Clear crystals are faceted into attractive gems.
General Information
Chemical Formula

Gemmological Tables

(2004)

, More from other references
Photos of natural/un-cut material from mindat.org
Physical Properties of Herderite
Mohs Hardness

5 to 5.5

Blue Chart Gem Identification

(2010)

, More from other references
Specific Gravity

2.90 to 3.02

Blue Chart Gem Identification

(2010)

, More from other references
Cleavage Quality

Indistinct

Gemstones

(2009)

,
Fracture

Sub-Conchoidal

Gemstones

(2009)

,
Optical Properties of Herderite
Refractive Index

1.587 to 1.642

Blue Chart Gem Identification

(2010)

, More from other references
Optical Character

Biaxial/+,-

Blue Chart Gem Identification

(2010)

, More from other references
Birefringence

0.028 to 0.032

Blue Chart Gem Identification

(2010)

, More from other references
Dispersion

Nil

Gemstones

(2009)

,
Colour
Colour (General)

Greyish blue, colourless, pale green, yellowish.

Gemstones of the world

(2001)

, More from other references
Transparency

Transparent,Translucent

Gemstones of the world

(2001)

, More from other references
Lustre

Vitreous

Gemstones of the world

(2001)

, More from other references
Fluorescence & other light emissions
Fluorescence (General)

Commonly greenish to violet

Blue Chart Gem Identification

(2010)

, More from other references
Fluorescence (Short Wave UV)

Some specimens exhibit moderate green fluorescence

Gemstones

(2009)

,
Fluorescence (Long-Wave UV)

Some specimens fluoresce deep-blue or moderate green.

Gemstones

(2009)

,
Phosphorescence

Some specimens are reported to have shown persistent phosphorescence

Gems, Sixth Edition

(2006)

,
Crystallography of Herderite
Crystal System

Monoclinic

Blue Chart Gem Identification

(2010)

, More from other references
Habit

Pseudo-orthorhombic crystals

Gems, Sixth Edition

(2006)

, More from other references
Geological Environment
Where found:

Is believed to occur in complex granite pegmatites

Gems, Sixth Edition

(2006)

,
Further Information
Mineral information:
Herderite information at mindat.org
Significant Gem Localities

Myanmar

Ted Themelis (2008) Gems & mines of Mogok
Ted Themelis (2008) Gems & mines of Mogok