Amblygonite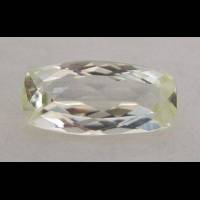 Brazil
4.13 carats
© Rarestone.com
Amblygonite is named after Greek for "crooked angled" referring to mineral's triclinic crystals. The mineral was first discovered in Saxony by August Breithaupt in 1817.
Transparent amblygonite can be faceted and set into jewelry, but it is at risk of breaking and brasion, because its hardness and toughness are poor.
Facet-grade gem rough of yellow amblygonite is found in Brazil and Burma.
General Information
Chemical Formula

Gems, Sixth edition

(2006)

, More from other references
Photos of natural/un-cut material from mindat.org
Amblygonite Treatments

Colorless material has been reported by Pough(1957) to turn to greenish yellow color on irradiation. Heat could be expected to reverse this change.

Physical Properties of Amblygonite
Mohs Hardness

6

Blue Chart Gem Identification

(2010)

, More from other references
Specific Gravity

2.98 to 3.10

Blue Chart Gem Identification

(2010)

, More from other references
Cleavage Quality

Perfect

Blue Chart Gem Identification

(2010)

, More from other references
Fracture

Sub-Conchoidal

Gemstones

(2009)

,
Heat Sensitivity

Moderate heat sensitivity

Gemstones

(2009)

,
Optical Properties of Amblygonite
Refractive Index

1.578 to 1.646

Blue Chart Gem Identification

(2010)

, More from other references
Optical Character

Biaxial/+,-

Gemmological Tables

(2004)

, More from other references
Birefringence

0.020 to 0.030

Blue Chart Gem Identification

(2010)

, More from other references
Pleochroism

Absent

Gemstones of the world

(2001)

, More from other references
Dispersion

0.014 to 0.015

Gemstones of the world

(2001)

, More from other references
Colour
Colour (General)

Colourless, yellowish, pink, brown, green, blue

Gemmological Tables

(2004)

, More from other references
Transparency

Transparent

Gemmological Tables

(2004)

, More from other references
Lustre

Vitreous,Pearly

Gemstones

(2009)

,
Fluorescence & other light emissions
Fluorescence (General)

Very weak, green.

Gemstones of the world

(2001)

,
Fluorescence (Long-Wave UV)

Inert to weak-green

Blue Chart Gem Identification

(2010)

, More from other references
Phosphorescence

May phosphosesce light blue to LW and SW

Blue Chart Gem Identification

(2010)

,
Crystallography of Amblygonite
Crystal System

Triclinic

Blue Chart Gem Identification

(2010)

, More from other references
Habit

Usually massive

Gemstones

(2009)

,
Further Information
Mineral information:
Amblygonite information at mindat.org
Significant Gem Localities

Brazil

Myanmar

Ted Themelis (2008) Gems & mines of Mogok
Ted Themelis (2008) Gems & mines of Mogok

Pein-Pyit (Painpyit; Pyan Pyit)

Ted Themelis (2008) Gems & mines of Mogok
Ted Themelis (2008) Gems & mines of Mogok