Jadeite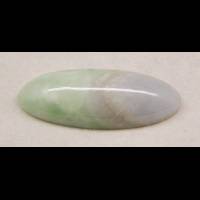 Myanmar
8.59 carats
© Rarestone.com
Jadeite (name derived from
Jade
) is very tough and resistant because of its tight growth of tiny interlocking grains. It occurs in all colours. Fractures are dull, and greasy when polished.
The most prized is finest-quality semitransparent jadeite with even, vivid green color, also known as "Imperial" jadeite.
Lavender is the second most valued colour.
Deep black lustrous jadeite found in Guatemala also known as Maya Black is gaining popularity.
General Information
A variety or type of:
Jade
Varieties/Types:
Other Names/Trade Names:
Chemical Formula

Gemmological Tables

(2004)

, More from other references
Photos of natural/un-cut material from mindat.org
Jadeite Treatments
Commonly impregnated with wax to improve luster. Bleached in acid to remove the brownish hue: creates fine cracks. Stabilized with polymer: reflecting light, distinct luster of filled cracks. Hot point and scratch tests.
Dye concentration may be seen in small cracks (grain boundaries) resulting of bleaching and along fractures: may be discolored by acetone or diluted acid (depends on impregnation) - Blue Chart Gem Identification, Herve Nicolas Lazzarelli, 2010, p 4

Bleaching to remove brown areas, which creates voids. They are filled with polymer. Bleaching weakens the structure and appearance of the stone may change over time. - GIA, 2018

Heat-treatment produces orange and reddish from material that contains iron inclusions. Heat-treatment is stable and undetectable. - GIA, 2018
Jadeite Simulants
Assembled jadeite imitations. Triplets: 3 pale, transparent jadeite pieces with green cement or gel. Plastic, glass.
Jadeite natural substitutes: maw sit sit, serpentine, chrysoprase, californite, hydrogrossular, quartzite that can be dyed from dark green to bright apple green and other colours - GIA 2018
Synthetic Jadeite

General Electric produced synthetic jadeite in a variety of green colours and lavender colour, but synthetic jadeite is not yet commercially available. - GIA 2018

Physical Properties of Jadeite
Mohs Hardness

6.5 to 7

Blue Chart Gem Identification

(2010)

, More from other references
Specific Gravity

3.28 to 3.38

Blue Chart Gem Identification

(2010)

, More from other references
Tenacity

Brittle

Gemstones of the world

(2001)

,
Cleavage Quality

None

Gemstones

(2009)

, More from other references
Fracture

Uneven

Gemstones

(2009)

, More from other references
Optical Properties of Jadeite
Refractive Index

1.652 to 1.688

Blue Chart Gem Identification

(2010)

, More from other references
Optical Character

Biaxial/+

Gemmological Tables

(2004)

, More from other references
Birefringence

0.012 to 0.020

Blue Chart Gem Identification

(2010)

, More from other references
Pleochroism

Nil

Gemstones

(2009)

,
Dispersion

Nil

Gemstones

(2009)

,
Colour
Colour (General)

Green, white, pink, red, orange, yellowish, brown, red-violet

Gemmological Tables

(2004)

, More from other references
Colour (Chelsea Filter)

No reaction. Dyed green: if present, a red reaction is diagnostic (chromium)

Blue Chart Gem Identification

(2010)

,
Causes of Colour
"Emerald" green (chrome jadeite), Cr3+ in octahedral coordination. Yellowish green, Fe3+ in octahedral coordination. Violet ("lavender jadeite"), Fe2+-O-Fe3+ charge transfer, synthetic is colored by Mn3+

Pragmatic Spectroscopy For Gemologists

(2011)

,
Transparency

Translucent,Opaque

Gemmological Tables

(2004)

, More from other references
Lustre

Greasy,Dull

Gemstones of the world

(2001)

, More from other references
Fluorescence & other light emissions
Fluorescence (General)

Greenish jadeite: very weak - whitish glimmer

Gemstones of the world

(2001)

,
Fluorescence (Long-Wave UV)

Inert to whitish-greenish; bleached stones: possible bluish-white or yellow-green reaction

Blue Chart Gem Identification

(2010)

,
Crystallography of Jadeite
Crystal System

Monoclinic

Blue Chart Gem Identification

(2010)

, More from other references
Habit

Intergrown, grainy aggregate

Gemstones of the world

(2001)

, More from other references
Geological Environment
Where found:

In high-pressure metamorphic rocks of the glaucophane facies; a component of eclogite.

Handbook of mineralogy

(2001)

, More from other references
Further Information
Mineral information:
Jadeite information at mindat.org
Significant Gem Localities

Cuba

Garcia-Casco et al. (2009)

Guatemala

Japan

Chihara (1999)
Chihara (1999)

Kazakhstan

Spiridonov (1998)

Myanmar

Hpakant Township (Hpakan; Phakant; Phakan)

Hpakant-Tawmaw Jade Tract

Hpakant (Hpakan; Phakant; Phakan)

Ou Yang (1999)
Ou Yang (1999)
Ou Yang (1999)
Ou Yang (1999)
Ou Yang (1999)
Ou Yang (1999)

Mohnyin Township (Moe Hnyin Township)

Ou Yang (1999)

Hkamti Township (Khamti Township)

Ou Yang (1999)
Ou Yang (1999)

Russia

Spiridonov (1998)

Yamalo-Nenets Autonomous Okrug

Yushkin (1996)

Turkey

Okay (2002)