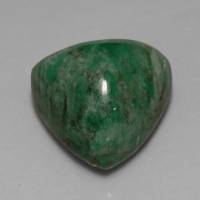 Myanmar
13.35 carats
© gemselect.com
Maw Sit Sit is a bright green aggregate. Composition of Maw Sit Sit is variable, but the main components are, in decreasing order of abundance, albite, chromian eckermannite, kosmochlor, chromite and natrolite.
Maw sit sit often has black spots and/or veins, streaks and other markings.
It can be used as a substitute to
jadeite
.