Johachidolite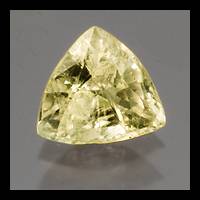 Myanmar
0.94 carats
© Palagems
Johachidolite is named after its discovery locality, in the Johachido district, Kenkyohokudo, North Korea.
Johachidolite forms transparent colorless, pale yellow, yellow, orange, brown equant subhedral crystals with vitreous lustre. The material has strong whitish blue fluorescence under LWUV.
The material of ultimate gem quality is reported from the Mogok region.
General Information
Chemical Formula

Gems, Sixth Edition

(2006)

,
Photos of natural/un-cut material from mindat.org
Physical Properties of Johachidolite
Mohs Hardness

7.5

Gemmological Tables

(2004)

, More from other references
Specific Gravity

3.45

Gemmological Tables

(2004)

, More from other references
Optical Properties of Johachidolite
Refractive Index

1.717 to 1.724

Gemmological Tables

(2004)

, More from other references
Optical Character

Biaxial/+

Gemmological Tables

(2004)

, More from other references
Birefringence

0.007

Gemmological Tables

(2004)

, More from other references
Colour
Colour (General)

Yellow

Gemmological Tables

(2004)

, More from other references
Transparency

Transparent,Translucent,Opaque

Gemmological Tables

(2004)

, More from other references
Fluorescence & other light emissions
Fluorescence (Short Wave UV)

A weak blue

Gems, Sixth Edition

(2006)

,
Fluorescence (Long-Wave UV)

A strong whitish blue fluorescence

Gems, Sixth Edition

(2006)

,
Crystallography of Johachidolite
Crystal System

Orthorhombic

Gemmological Tables

(2004)

, More from other references
Habit

Equant subhedral crystals

Gems, Sixth Edition

(2006)

,
Geological Environment
Where found:

Occurs in a nepheline dike cutting limestone

Gems, Sixth Edition

(2006)

,
Further Information
Mineral information:
Johachidolite information at mindat.org
Significant Gem Localities

Myanmar

Gems, Sixth Edition, Michael O'Donoghue, 2006, p. 420

Pein-Pyit (Painpyit; Pyan Pyit)

Ted Themelis (2008) Gems & mines of Mogok

North Korea

Gems, Sixth Edition, Michael O'Donoghue, 2006, p. 420