Kyanite (Cyprine)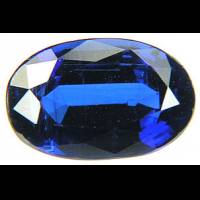 Nepal
3.03 carats
© Mineral Classics
Kyanite is named after Greek word for "blue", because of its colour. Some fine specimens have sapphire-blue colour with violet pleochroism.
Kyanite has a wide variations of hardness in the same crystal depending on direction (across or along axes). It complicates the cutting of this material.
Cut stones reach 10 - 15 carats. Varieties with alexandrite effect and cat's eye are known.
General Information
Other Names/Trade Names:
Chemical Formula

Gemstones

(2009)

, More from other references
Photos of natural/un-cut material from mindat.org
Kyanite Treatments

Pale blue kyanite (also known as cyanite or disthene) is reported to lose its color on heating to 1200°C (Smith et al, 1978) - Nassau (1984)

Physical Properties of Kyanite
Mohs Hardness

4 to 7

Gemstones of the world

(2001)

, More from other references
Specific Gravity

3.55 to 3.70

Blue Chart Gem Identification

(2010)

, More from other references
Tenacity

Brittle

Gemstones of the world

(2001)

,
Cleavage Quality

Perfect

Gemmological Tables

(2004)

, More from other references
Fracture

Splintery

Gemstones

(2009)

,
Optical Properties of Kyanite
Refractive Index

1.710 to 1.735

Blue Chart Gem Identification

(2010)

, More from other references
Optical Character

Biaxial/+,-

Blue Chart Gem Identification

(2010)

, More from other references
Birefringence

0.012 to 0.033

Blue Chart Gem Identification

(2010)

, More from other references
Pleochroism

Blue stones - strong trichroism: colorless/pale blue - (greenish or violet)-blue - dark blue

Blue Chart Gem Identification

(2010)

, More from other references
Dispersion

0.020

Gemstones

(2009)

,
Chatoyancy

Rare

Blue Chart Gem Identification

(2010)

, More from other references
Colour
Colour (General)

Blue, blue-green, green, brown, yellow, red, colourless

Gemmological Tables

(2004)

, More from other references
Causes of Colour
Blue, Fe2+-O-Ti4+ charge transfer, Fe2+-O-Fe3+ charge transfer, Fe2+ and Fe3+ in octahedral coordination can all be involved, with contribution from Cr3+ in octahedral coordination. Green, V3+ in octahedral coordination; Fe3+ in octahedral coordination. Orange, Mn3+. Color change, Cr3+ in octahedral coordination

Pragmatic Spectroscopy For Gemologists

(2011)

,
Transparency

Transparent,Translucent

Gemstones of the world

(2001)

, More from other references
Lustre

Vitreous,Pearly

Gemstones

(2009)

, More from other references
Fluorescence & other light emissions
Fluorescence (General)

Weak; red

Gemstones of the world

(2001)

,
Fluorescence (Long-Wave UV)

Blue: usually reddish

Blue Chart Gem Identification

(2010)

, More from other references
Crystallography of Kyanite
Crystal System

Triclinic

Blue Chart Gem Identification

(2010)

, More from other references
Habit

Often fibrous

Blue Chart Gem Identification

(2010)

, More from other references
Geological Environment
Where found:

Kyanite occurs in gneisses and schists and in granite pegmatites.

Gems, Sixth Edition

(2006)

,
Further Information
Mineral information:
Kyanite information at mindat.org
Significant Gem Localities

Kenya

Natural History Museum Vienna collection

Madagascar

Madagascar - extraLapis English No.1, p. 92

Mozambique

Gems, Sixth Edition, Michael O'Donoghue, 2006, p. 422

USA

E.Ya. Kievlenko (2003) Geology of gems, p. 70