Magnesite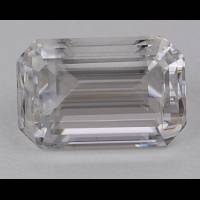 Brazil
8.80 carats
© Rarestone.com
Magnesite is named from Greek "magnesia lithos" - magnesian stone, a kind of ore from Magnesia, the coastal district of ancient Thessaly, Greece.
Magnesite frequently occurs as translucent, sometimes transparent colourless, white, yellowish to brown or grey masses with an earthy or chalky appearance. This material is cut into cabochons.
Transparent crystals of gem-quality are very rare. The amount of faceted stones is mostly limited to specialized collections.
General Information
Varieties/Types:
Chemical Formula

Gems, Sixth Edition

(2006)

, More from other references
Photos of natural/un-cut material from mindat.org
Magnesite Treatments
Dyed to imitate lapis, turquoise (chelsea: common reddish), coral. Acetone test - Blue Chart Gem Identification, Herve Nicolas Lazzarelli, 2010, p 8
Physical Properties of Magnesite
Mohs Hardness

3.5 to 4.5

Blue Chart Gem Identification

(2010)

, More from other references
Specific Gravity

2.92 to 3.12

Blue Chart Gem Identification

(2010)

, More from other references
Cleavage Quality

Perfect

Gemmological Tables

(2004)

, More from other references
Fracture

Conchoidal

Gemstones

(2009)

,
Optical Properties of Magnesite
Refractive Index

1.509 to 1.720

Blue Chart Gem Identification

(2010)

, More from other references
Optical Character

Uniaxial/-

Blue Chart Gem Identification

(2010)

, More from other references
Birefringence

0.190 to 0.202

Blue Chart Gem Identification

(2010)

, More from other references
Pleochroism

Nil

Gemstones

(2009)

,
Dispersion

Nil

Gemstones

(2009)

,
Colour
Colour (General)

White, yellow, brown, black, colourless

Gemmological Tables

(2004)

, More from other references
Transparency

Translucent,Opaque

Gemmological Tables

(2004)

, More from other references
Lustre

Vitreous,Dull

Gemstones of the world

(2001)

, More from other references
Fluorescence & other light emissions
Fluorescence (General)

Blue, green, white common

Blue Chart Gem Identification

(2010)

,
Fluorescence (Short Wave UV)

Blue green or white fluorescence may be seen with greenish phosphorescence

Gems, Sixth Edition

(2006)

,
Phosphorescence

Greenish

Blue Chart Gem Identification

(2010)

,
Crystallography of Magnesite
Crystal System

Trigonal

Blue Chart Gem Identification

(2010)

, More from other references
Habit

Massive

Gems, Sixth Edition

(2006)

, More from other references
Geological Environment
Where found:

Magnesite occurs as a primary mineral in igneous or sedimentary rocks or may be formed by the metamorphism or alteration of serpentine and peridotite.

Gems, Sixth Edition

(2006)

,
Further Information
Mineral information:
Magnesite information at mindat.org
Significant Gem Localities

Brazil

Gems, Sixth Edition, Michael O'Donoghue, 2006, p. 426
Gems, Sixth Edition, Michael O'Donoghue, 2006, p. 426