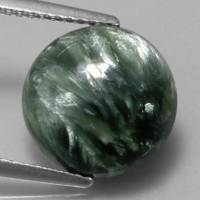 Russia
4.81 carats
© gemselect.com
Seraphinite was named after Seraphim, the highest order of angels, due to feather-like appearance of the chatoyant fibers in the stone.
Seraphinite is a dense fine-grained variety of
Clinochlore
. It has dark green to grey colour with silvery and feathery shimmer caused by mica inclusions.
Seraphinite is used for carving and as a decorative stone.